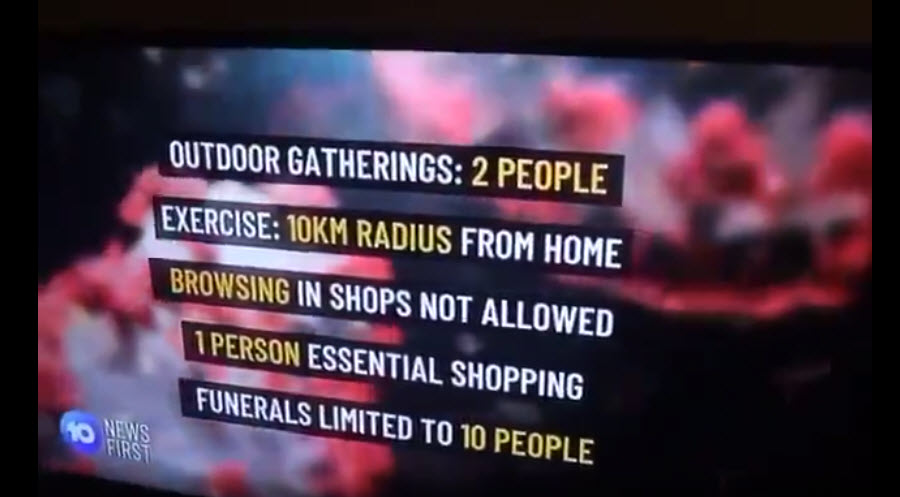 Maybe Australians know something Americans don't know yet?
After hearing what this news reporter said on-air in Australia, you have to wonder if America didn't get the memo on the New World Order.
Some of us could see it coming, but the term "new world order" might be new to you.
What's the New World Order? Well, there's a lot to unpack there. Too much for this article. If you haven't heard the term, it generally represents a vision of world government shared by the super wealthy and the elite class.
According to Reporter Steve Hart from the New South Wales TV Station "10 News First", today was the first day of this so-called New World Order. He nonchalantly says "Today is the first day of the New World Order" and then robotically reports the new draconian lockdowns and restrictions once again imposed on Australia.
Giving details about the new lockdowns, for the criminal scheme to defraud known as "COVID-19" Reporter Hart, like a good little Commie statist drone, outlined:

Outdoor Gatherings are limited to: Two People

Exercise: Within 10km of home

Browsing in Shops: PROHIBITED

One (1) Person per household, per day may engage in Essential Shopping (Food and supplies)

Funerals: Limited to Ten (10) People

Hal Turner Radio Show
Watch as the newscaster says, "Today is the first day of the New World Order."
Australia is able to do this nonsense to its citizens because it scammed those citizens out of weapons several years ago, with emotion-driven appeals after a single nutcase gunned down some people. The masses never bothered to realize that once they were disarmed, their own government would do things like this. Yet, here it is.

This is what happens to people who give up their God-given right to own weapons for self-defense.

It is also what happens when people fail to pay attention to actual facts, and instead drink the Kool-Aid of government propaganda about a disease that has a 99.8% survival rate.

COVID: A VACCINE SO SAFE YOU HAVE TO BE THREATENED TO TAKE IT, FOR A DISEASE SO DEADLY YOU HAVE TO BE TESTED TO KNOW IF YOU EVEN HAVE IT.

Hal Turner Radio Show
It is a bit funny how this was broadcasted in Australia, where the global time clock begins. As the sun rose from Australia to India, Europe and then the Americas, this announcement is "going viral."
Did the NWO kick off today? Or was this broadcaster being melodramatic?