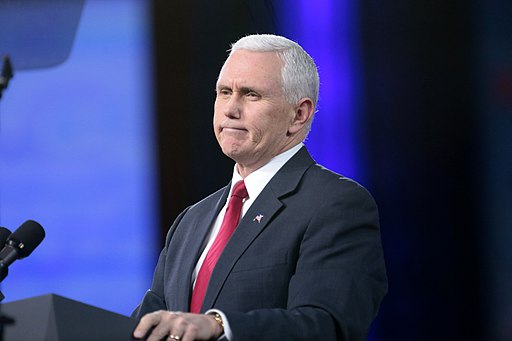 Mike Pence is under the delusion he is still relevant in Republican politics.
The former VP and once loyal Trump team player changed his political destiny with one decision: certifying the election delegates on January 6.
Since that fateful political decision, Donald Trump has harshly criticized Pence on multiple occasions, and the two have not been seen together since leaving office January 20.
But according to Pence, he has spoken to the former President "many times," and heaps strategic praise on Trump hoping to regain the good graces of Trump voters.
For example, on Thursday, Pence spoke at the Lincoln Reagan Dinner fundraiser hosted by the Hillsborough County GOP in Manchester, New Hampshire.
Pence keeps trying to raise money for his own POTUS campaign in 2024. But after what he said on Thursday, that idea seems laughable – even if Trump doesn't run again.
Here's why: Pence said he still thinks he did the right thing by certifying the fraudulent 2020 election.
Just call him Benedict Mike:
Amid rising speculations that former Vice President Mike Pence may be eyeing a 2024 bid, Pence has spoken out on his current relationship with 45th President Donald Trump following the Jan. 6 Capitol riots.

In a Trump-like speech, Pence cleared the air and rallied attendees of the Lincoln Reagan Dinner fundraiser hosted Thursday night by the Hillsborough County GOP in Manchester, N.H.

Pence said he has spoken with Trump "many times" although he's not certain they will "ever see eye-to-eye" on his decision to do what the Vice President said was his "constitutional duty" to certify the election results in his role as President of the Senate on Jan. 6.

However, Pence made it clear that despite their disagreement on the issue, he remains "proud" of what the Trump-Pence Administration accomplished together over the past four years.

Right Side Broadcast Network
Pence stands by his decision. However, his unwillingness to rethink January 6 is going to pretty much sink his presidential aspirations before getting started.
If Pence were to express a tiny bit of regret – maybe think out loud about what he did and question it a little – that could go a long way in restoring his position with GOP voters.
A "mea culpa" from Pence could dramatically boost his chances of winning in 2024.
Of course, his chance of winning is not good even if Trump doesn't run.
If Trump does run again, the chances of 45 asking Pence to rejoin his ticket as VP seems pretty unlikely now.
In all of these scenarios, Pence's future with the GOP looks pretty bleak.
He appears to think otherwise, and will probably attend many more rubber chicken dinner fundraisers to test the waters.
We will see of Pence figures out his future with the GOP is over before he embarrasses himself.