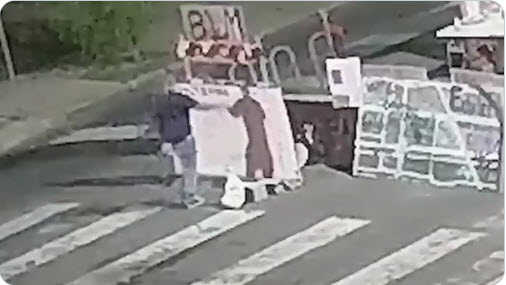 Surveillance cameras can be annoying. They also are oppressive because they can be used against American civil liberties.
However, sometimes a surveillance camera provides us with gems like this:
An anonymous man in Minneapolis is caught on tape dismantling a BLM roadblock set up on the perimeter of an "autonomous zone" created as a shrine for George Floyd.
Whoever this guy is, Patriots are hailing him a hero.
According to video captured by the Star Tribune, the unidentified man pulled up to the show in his pickup truck before tossing signs to the pavement. At about 2 a.m. on Sunday morning, he returned to his car, took a hatchet, and bashed into what seemed to be a tiny shed.

"This was particularly upsetting that this would happen after the historic trial and the upcoming memorial," said LaToya Evans, a spokesperson for a nonprofit organization organizing a Floyd memorial.

According to a spokesperson for the Minneapolis Police Department, the incident was not disclosed to police and, as a result, investigators have not yet investigated it.

All of the garbage was blocking a road that leads to "George Floyd Square," a remote "autonomous" and "cop-free" region that surrounds the Cup Foods store near where Floyd was killed on May 25, 2020. Business owners in the district, which has been plagued with gang activity and violence, banded together earlier this year to seek city bailouts after officials permitted the zone to continue operating after June.

The Scoop
WATCH:
See what happens when you defund the police?
Nobody came to rescue the BLM autonomous zone.
How sad.