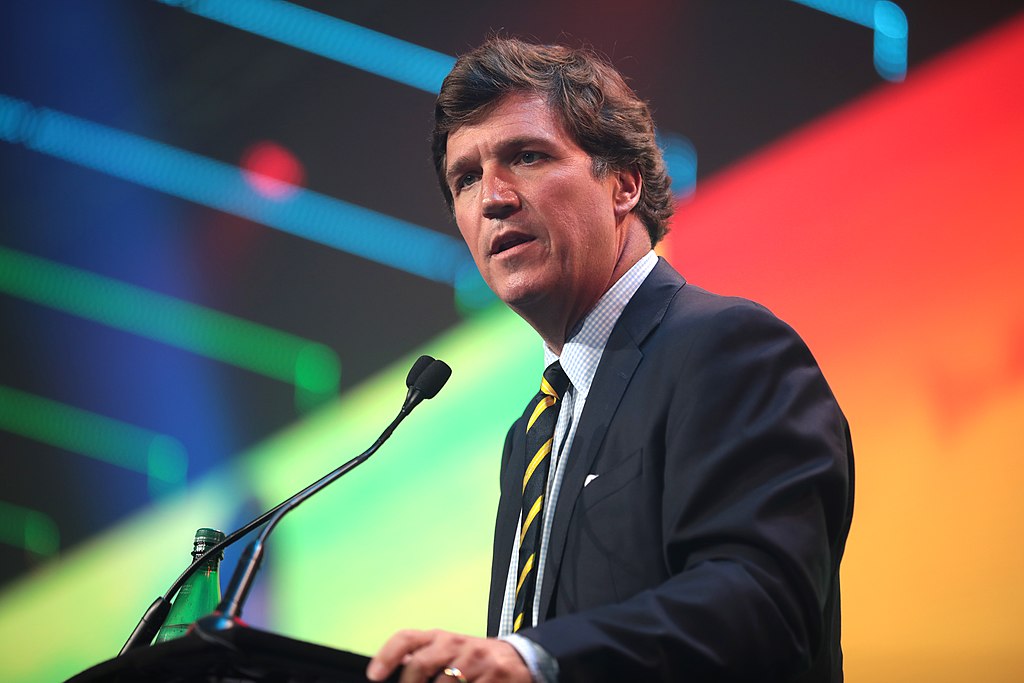 Fox News Commentator Tucker Carlson told his viewers Thursday that his show is being targeted for cancellation.
This statement from Carlson stands out: ""in the last several weeks, and particularly in the last 24 hours, the call to take this show off the air by groups funded—for real—by the Ford Foundation, or by George Soros, by Michael Bloomberg, by Jeff Bezos, has become deafening, going after our advertisers, going after the companies that carry our signal into your home."
Carlson also warned that "cowardice and complicity" throughout the media industry will lead to many more journalists being targeted also.
What appears to be driving this recent attack on Carlson has to do with the fact that FOX has given Tucker a second show on FOX Nation, the network's subscription-based streaming service, where at least three video podcasts will be produced each week along with long-form monthly specials.
The show will offer interviews with newsmakers and conversations on the "issues currently shaping the country," said FOX Nation.
Soros funded Media Matters of America will cotinue to pay activists to call for Carlson's cancellation. They also campaign for advertisers to drop Carlson's show (along with other shows) for offering viewpoints on issues not approved by the woke mob.
Bezos is another oligarch using his propaganda machine known as The Washington Post to attack and censor conservative viewpoints. WaPo recently published an editorial by Max Boot who called Carlson "the most dangerous threat to U.S. democracy."
There are plenty of liberal crackpots with pitchforks on Twitter attacking Carlson:
Tucker Carlson and his racist puppet master is not your friend. They do not consider you one of them. He complains about cancel culture, denies systemic racism, while whipping up a white supremacist mob to attack the capital and prevent democracy. https://t.co/cVOsGqKM1y

— DarylTheAtlantean (@AtlanteanDaryl) February 13, 2021
You may want to contact some of these sponsors and THANK THEM for this:
Fox News is honoring Rush Limbaugh & they promoted Tucker Carlson to produce shows. Here are some of their sponsors@Disney (33% owners of @hulu)@CopperFit@ForceFactor@etrade@Depend@NordicTrack@LifeLock@symantec@WeatherTech@ClearChoice@Bayer@LandOFrost@KraftHeinzCo

— Secret Agent Number Six (@DesignationSix) February 18, 2021
Does Tucker Carlson ever NOT look completely baffled and somewhat idiotic? I don't watch the show, so I have nothing but tweets showing him with THAT LOOK. 💩

— GeezerPunk #BLM #Trumplethinskin #BunkerBoy GOPENS (@GeezerTheGreat) February 18, 2021
On Feb. 16, Fox News host Tucker Carlson placed the blame for the outage on renewable energy, paying particular attention to frozen windmills. Boom. pic.twitter.com/npBEYtjKQg

— John DesMarteau MD (@JohnDesMarteau) February 18, 2021
God gets in on the Cancel Culture craze! 😀
Can he do Tucker Carlson next?! 🙏🏻

— Just Surviving (@justsurviving29) February 17, 2021
Fox's plan to stream Tucker Carlson makes sense. Boomer viewers would await a fixed hour for their daily serving of rage and paranoia. Post-boomer viewers demand their rage and paranoia on their *own* timetables. Fox had to keep up with the changing rage and paranoia marketplace.

— David Frum (@davidfrum) February 17, 2021
You can show support for Tucker Carlson by contacting FOX News and his show sponsors to tell them how much you enjoy Carlson's content.