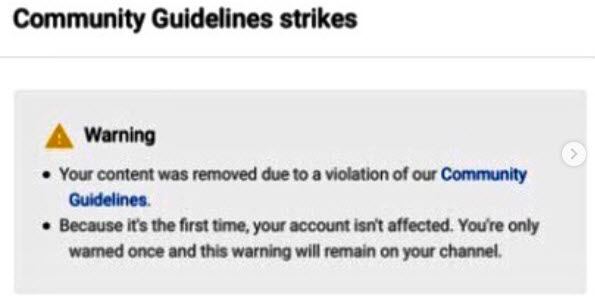 Big Tech social media platforms such as Facebook, YouTube and Twitter all claim to hold no bias in their user agreements.
Even in front of Congress, the founders of these Big Tech companies will lie to your face about their policies. Pichai, Zuckerberg, and Dorsey – all three banned a U.S. President from their respective platforms, right?
Gimme a break.
Now, another big name conservative is being censored on YouTube. His comments have not really been "over-the-top" to begin with, which only makes this more outrageous.
Steven Crowder, a popular conservative host of the Louder with Crowder show, was recently censored on YouTube.
Here is what Crowder himself said on Instagram about YouTube's penalization of his video content: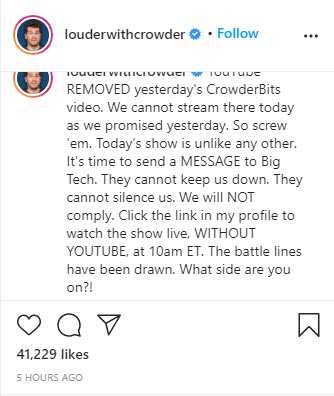 This is not the first time Crowder has been censored, harassed and mistreated by these Big Tech platforms.
Back in 2019, YouTube demonitized the conservative comedian's channel. Although he wasn't banned, the move by YouTube impacted Crowder's business income.
Now, Crowder is fighting back against Big Tech- not just with his mouth but with a lawsuit.
His first legal target is Facebook.
The suit was filed last month in U.S. District Court for the Northern District of California.
Here's what Crowder had to say on his website about his move to fight back against Big Tech censors like Facebook:
We want Facebook to stop these practices or to be honest about what it is they're doing. Simply stated, is Facebook a publisher or platform? They need to be open about what they are and act accordingly.

There is a double standard here. What are the actual standards by which Facebook says we, its users, govern ourselves? Facebook needs to disclose what they're doing as a business, especially as they solicit money for advertising.

We need Facebook to stop throttling pages and content and to stop favoring certain outlets over others. In a word, stop acting like a publisher or just admit that they are one. We're prepared to take the lawsuit as far as we need to, including to the United States Supreme Court.

Louder with Crowder
Conservatives across the nation are hoping and praying that Crowder can make a difference with these social media companies that unfairly favor a certain worldview while mistreating users who create content reflecting conservative, traditional values and ideas.
Will Twitter be his next battle?
Crowder has had his battles with Twitter as well – most recently starting February of 2021 which is still unresolved. Crowder's tweets may be on thin ice with the little blue bird:
As a publisher who values the 1st Amendment, Buzz America is proud of Steven Crowder's willingness to stand up to the woke mob and fight for free speech.
Are you tired of seeing conservative voices getting banned on the biggest social media platforms? Do you think Crowder's lawsuit has a chance to win in court? Let's talk in the comments.