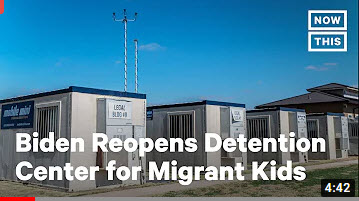 Joe Biden is trying to come up with a less offensive name for "cages."
There's a massive surge of migrants flowing into the country's southern border right now after Joe sent signals encouraging people to behave this way.
Joe is no libertarian – having absolutely no checks or regulations at the border to monitor who is coming in or how many come in would not be safe or legal under our constitution.
So what can Joe do?
Looks like he has to keep using those ugly, cage-looking "facilities" that have been around since the Obama administration.
I mean, what's he gonna do? Build new 5-star hotels for migrant children and families to stay in?
There's no time for that now. Hordes of people are already coming in.
And when your government is 28 trillion in debt and cash strapped, you improvise.
You set up some "nicer" looking cages that don't look so much like a cage.
And then you come up with a different name for those cages.
According to the Washington Examiner, the Biden administration are considering calling their rebranded cages "reception facilities." Insiders with access to these discussions say the logic for this new name is that is sounds kinder, gentler than "detention centers" or "migrant facilities."
According to the report – the Biden team will be changing their approach to the migrant crisis. By the sound of it, they may want to consider calling these facilities "Migrant Express Marts."
The facilities are going to be converted into launching points, where migrants are quickly released from these cages reception centers out into the U.S.
Border officials are estimating that 117,00 children will be showing up to the U.S.-Mexican border in 2021. That's a higher number than 2014 when 68,000 solo kids were taken into custody and 80,000 solo children were were detained in 2019.
The U.S. government used to send all unaccompanied children from Central America back to Mexico. Legally they could do that during the pandemic.
However, Biden's new DHS Secretary Alejandro Mayorkas has now ordered Border Patrol to keep every child detained. They are using a 2007 trafficking law as the foundation of their new policy.
So now, unaccompanied children cannot be sent back to Mexico automatically. Instead, they are taken into custody and held by the government for a short period before their release into the U.S.
While the new regime tries to put lipstick on this pig, Twitter users see right through this mess:
What's crazy is Biden is not testing the migrants for COVID-19 before releasing them into the U.S. South Carolina Senator Lindsey Graham says that makes no sense: