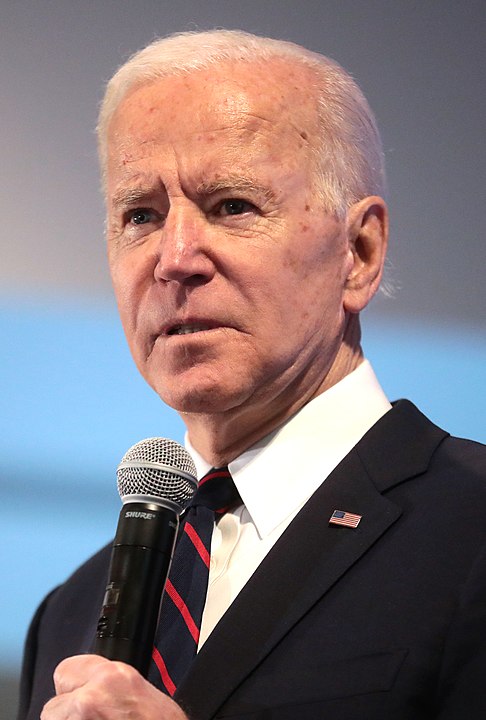 Parent's are fed up with Democrat's broken promises on education and their local school district treating them like idiots.
That's becoming quite clear this week as the Biden administration continues to move the goalposts on already murky plans to getting schools reopened after almost a year of pandemic virtual learning.
And today, a peak behind the curtain of a typical school board in California has parents outraged. Wait till you see what the video camera caught these clowns saying about parents!
First let's look at Joe: Since the inauguration, 80-100K deaths from COVID-19 have occurred on Joe's watch. The guy who spent the entire presidential campaign blaming Donald Trump for every single person who died from COVID.
That is no exaggeration. Here's Joe saying President Trump was responsible for every single death.
Biden claims Trump is responsible for every single person who has died from COVID-19:

"If the president had done his job, had done his job from the beginning, all the people would still be alive. All the people — I'm not making this up. Just look at the data. Look at the data." pic.twitter.com/Z6tkk9NzHi

— Ryan Saavedra (@RealSaavedra) September 18, 2020
Democrats have politicized this pandemic from the beginning. The American people endured over 10 months of propaganda through the Democratic Party media outlets. Now that Biden is responsible, the liars and manipulators running the show are accusing the GOP of "weaponizing pandemic-exhausted parents against Biden."
Playing political games during a pandemic is what frustrates parents the most, as Biden's promises to have schools back open with children attending class by his 100th day in office not looking good at all.
Biden's Press Secretary Jen Psaki told reporters the Biden adminstration's goal was "to have a majority of schools, so more than 50 percent, open by Day 100 of his presidency."
However, Psaki's definition of "open" is "some teaching in classrooms, so at least one day a week, hopefully, it's more."
Biden then appeared Tuesday night on CNN for a townhall meeting in Milwaukee, Wisconsin. What the President said clearly shows he and Psaki are not on the same page:
Joe Biden is asked about his administration originally setting a goal of schools being open five days a week, which changed to a goal of schools being opened at least one day a week:

"It was a mistake in the communication." pic.twitter.com/M6mffuzsXf

— Daily Caller (@DailyCaller) February 17, 2021
Another administration member not on the same page is VP Kamala Harris, who on the TODAY show stammered and stuttered when asked to give parents a clear goal on when schools will reopen:
How soon can schools be reopened? –@SavannahGuthrie asks @VP pic.twitter.com/gKl2p3PRlm

— TODAY (@TODAYshow) February 17, 2021
From The Federalist:
While Biden, Harris, and Psaki seem unable to provide consistent answers to basic questions about school reopenings, Republican governors have been more forthright. Florida Gov. Ron DeSantis called the CDC's new guidelines a "disgrace."
"Florida schools are open for in-person instruction. Every single parent in this state has a right to send their kid to in-person instruction. We have done it the right way, we are not going to turn back," DeSantis told reporters, adding: "What the CDC put out, 5 o'clock on a Friday afternoon — I wonder why they would do it then — was quite frankly a disgrace."
It's not just Republican politicians calling the endless closure of schools a disgrace. Parents, including self-described "progressive parents," are equally outraged, as one Oakland-area parent posted on Medium:
Trump said open schools, so we must keep them closed at all costs. I have never felt so alienated from the people I usually align myself with politically. I will never understand how the left in this country has decided that advocating for putting kids first is somehow right-wing. I'm hearing from progressive parents all the time who are so infuriated about the Democratic apathy around school reopening — from politicians like Gavin Newsom, who are willing to allow their stances to be dictated by teachers' unions — that they're considering supporting the recall effort, maybe even switching parties. … Because here's the thing: parents are not willing to sacrifice their kids' wellbeing for the sake of ideology or being a good leftist.
Politicians at the highest level are not the only ones letting parents down. Many on the local level are also failing America's next generation.
Entire Oakley California School Board Resigns After Mocking Parents During Video Conference Call They Didn't Realize Had Already Started
This video says a lot about what our so-called "leaders" of public education really think about parents. These dimwits thought their meeting was on "private" and the public could see them the entire time. Unbelievable.
The entire Oakley California school board resigned after mocking parents on a public meeting's livestream they didn't realize had already started.

— Corey A. DeAngelis (@DeAngelisCorey) February 20, 2021
Here is the video

"B****, if you're going to call me out, I'm going to f*** you up!"

"They want their babysitters back."pic.twitter.com/tgLgtBcdAb

— Corey A. DeAngelis (@DeAngelisCorey) February 20, 2021
— Corey A. DeAngelis (@DeAngelisCorey) February 20, 2021
Here is the full video on YouTube:https://t.co/uvHV2LuFmk

— Corey A. DeAngelis (@DeAngelisCorey) February 20, 2021
The whole public school situation under Biden is getting ugly–and now many Democrats are worried that the bumbling Biden administration is pushing voters toward the GOP in 2022.
Are you a frustrated parent wanting your local school to reopen? Click the Like button, which helps us know what topics you want to read. Thank you!