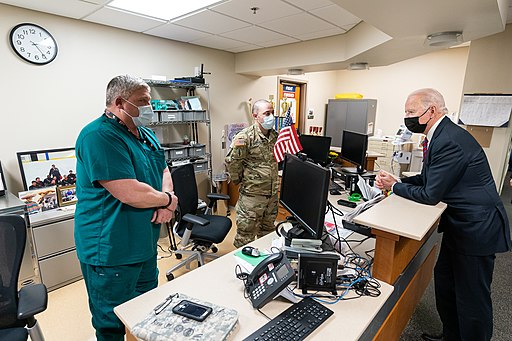 There are many reasons why Joe Biden needs a medical exam as soon as possible.
The number one reason is he's old! He's the oldest President in U.S. history!
He is 78 and a half years old, and will leave office the oldest president in U.S. history.
Which is why Joe Biden needs a physical exam asap.
Not only is he at an age where regular medical care is a smart thing – he has also displayed some troubling physical signs that indicate it may be time to see a doctor.
Such as the shuffling gait. Or the signs of cognitive decline – like forgetting what he was saying. Losing his train of thought mid sentence.
Not trying to be mean here. Just saying that Joe Biden should get a physical real soon.
And according to his spokespeople, a medical examination is being scheduled.
The White House on Tuesday said President Biden is set to have a medical evaluation later this year.

"The President is planning to have a checkup later this year, and the results will be released to the public," White House deputy press secretary Andrew Bates told Fox News.

White House press secretary Jen Psaki was also asked about a potential physical exam for the president last week during a press briefing, but she did not have an update at the time.

"I don't have an update at this moment, but certainly when he has his next medical appointment, we will be transparent about that and provide that information to all of you," Psaki said last week, adding that she was "not aware" of an appointment scheduled, but would provide the press with "all information and data" in a "transparent way when it is scheduled, and once he has that appointment."

Biden named his longtime physician. Dr. Kevin O'Connor, to be his doctor at the White House during his administration. O'Connor served in the Army and was assigned as White House physician to Biden when he was vice president from 2009 to 2017.

In December 2019, after a physical exam, O'Connor said Biden is "a healthy, vigorous 77-year-old male, who is fit to successfully execute the duties of the presidency, to include those as chief executive, head of state, and commander in chief."

At the time, O'Connor said that Biden was currently being treated for non-valvular atrial-fibrillation, better known as A-fib, which is an irregular heartbeat. He said Biden is also being treated for hyperlipidemia, which is an abnormally high concentration of fats or lipids in the blood, as well as gastroesophageal reflux, a digestive disorder that occurs when acidic stomach juices, or food and fluids back up from the stomach into the esophagus. And he noted that Biden – as many Americans do – suffers from seasonal allergies.

"For these, he takes three common prescription medications and two common over-the-counter medications," O'Connor said.

Fox News
A man Biden's age shouldn't go 18 months without seeing a doctor. From what we know, he's already taking three prescription medications.
He also happens to have the most stressful job in the world.
Time for a physical, Joe.