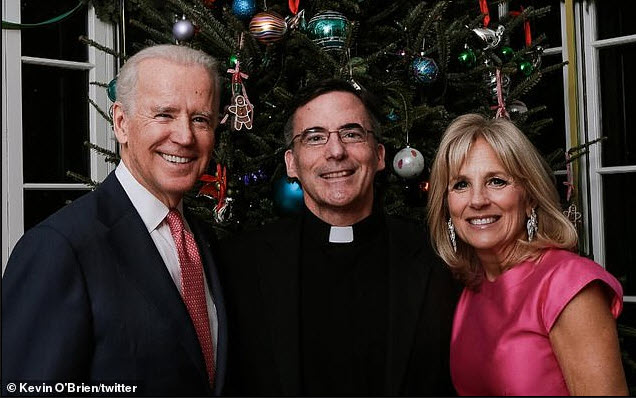 As if Biden's week couldn't get any worse – his own spiritual mentor is in trouble.
Lots of mystery is swirling around Jesuit priest Kevin O'Brien, as he is now under investigation for "unspecified allegations." O'Brien is on leave from his position as president of Santa Clara University in Northern California.
According to a statement issued by the college's board of trustees, Father O'Brien allegedly "exhibited behaviors in adult settings, consisting primarily of conversations, which may be inconsistent with established Jesuit protocols and boundaries," wrote board chairman John M. Sobrato.
Back in January, Father O'Brien presided over the inaugural mass for Joe Biden at the Cathedral of St. Matthew the Apostle, one of D.C.'s most prominent Catholic churches. VP Kamala Harris, Nancy Pelosi, and other Catholic Democrats attended the service. O'Brien also conducted the services for Biden's vice presidential inauguration.
Sobrato's statement, posted Monday to the university website, did not specify the allegations against O'Brien but said the trustees "support those who came forward to share their accounts."

Sobrato said that while O'Brien is on leave, the priest will be cooperating with the independent investigation, with conclusions to be shared with the Santa Clara University Board of Trustees. O'Brien didn't immediately respond to a request for comment.

Tracey Primrose, spokeswoman for the Jesuits West Province, which is overseeing the investigation, did not elaborate on the investigations to The Mercury News.

Jesuits are held to a professional code of conduct, and the Province investigates allegations that may violate or compromise established boundaries," Primrose told the newspaper.

Associated Press
Reportedly, many of the board members and Santa Clara University alumni are shocked by this news.
Right now, it's hard to say what's going on with Joe Biden's priest. Santa Clara University is in the middle of Silicon Valley, so there's that. Maybe Big Tech is involved? We will follow this story as it develops.