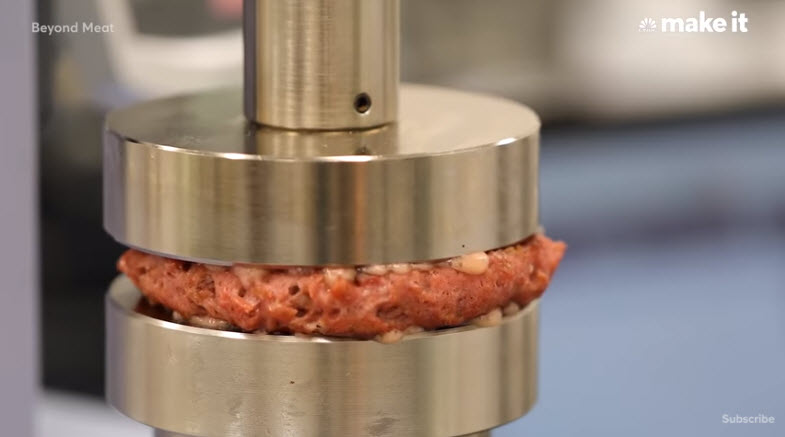 What has this guy been smoking lately?
Billionaire Bill Gates has been pushing all sorts of crazy ideas over the past year. As the cofounder of Microsoft–a software company that scaled–he has been quite successful in the computer industry. However, he is certainly not a scientist or a medical professional of any sort. He also is NOT an economist.
Yet, he keeps wanting to tell the world what to do with our health and our economy.
Now he's telling us what to eat. 
Get this–In an interview on Sunday, Billy Billionaire said rich countries (that includes the U.S., of course) should transition to 100% synthetic beef.
He went on to say the U.S. switching to plant-based meats like those sold by Impossible Foods or Beyond Meats will be "required" for saving the planet.
Gates has proven he can scale a business, and he is now optimistic that synthetic meat companies like Breakthrough Energy Ventures be able to grow way beyond their current status of 1% of the meat industry.
Bill also acknowledges the political challenges to get his dream implemented. "Saying to people, 'You can't have cows anymore'–talk about a politically unpopular approach to things."
I've got a real beef with Bill's latest idea–and so do many folks on Twitter:
Theres no "if" about switching to synthetic beef like @BillGates suggests. Its when. Its inevitable. It will happen whether you like it or not. In 15 years we'll be growing our meat.

— Egophobic (@EgophobicMusic) February 17, 2021
I'm thinking that's his problem… he's been eating synthetic meat and it's scrambled his brains

— Christopher (@Christo08414125) February 17, 2021
Can you see a future where synthetic beef is the norm and regular meat isn't? Seems farfetched @BillGates #WAGYU

— Ian Krol (@IANKROL_TKB) February 16, 2021
So he wants to control our vaccines/meds and now our food?? Wtf?? You know how weird you gotta be to be into vaccines and synthetic meat??

— DM (@Rockydm77) February 16, 2021
When Bill Gates gives up his TWO Gulfstream G650ER private jets, I'll consider switching to synthetic meat. Actually, no I won't.

— Seizer Pouncicus🇺🇸🇺🇸🇺🇸 (@TastyKAR) February 16, 2021
I can't deal with this monster @BillGates

Heavily invests in lab meat companies, then buys up so much land in the US that he becomes the largest farmland owner in the country and now urges all nations to buy his synthetic beef over natural cattle.

HE
DOES
NOT
CARE
ABOUT
YOU! pic.twitter.com/P5VW2oNhOg

— ᴄᴏɴᴄᴇᴘᴛ²¹¹ (@Concept211) February 16, 2021
Is he serious? This is the most ridiculous thing I've heard in a while. ⁦@hammerandnigel⁩ https://t.co/iIaeOLNRUI

— B (@B24735721) February 16, 2021
BILL GATES, big investor in synthetic meat & in the militant organizations lobbying for its implementation (eg. Good Food Institute) & media hailing its virtues (eg. Guardian), wants to use REGULATION to move ALL rich countries to … 100% synthetic beef. https://t.co/KMxLRZgq3T pic.twitter.com/o5rValYwnn

— Frédéric Leroy (@fleroy1974) February 16, 2021
Bill Gates is a cartoon character. He's a synthetic meat head.

— Theo Fleury (@TheoFleury14) February 17, 2021
Bill Gates bought all the private farm land now he says everybody gotta eat synthetic meat. dudes a weirdo And I don't trust him. Also Microsoft OS sucks

— Lil Scorcese (@salva) February 16, 2021