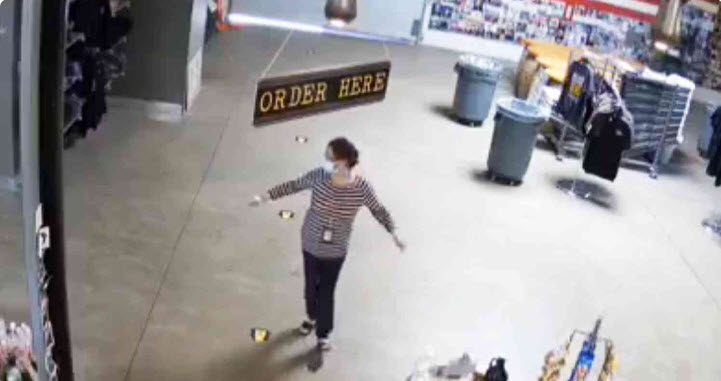 She didn't even order a drink–but she's drunk on power.
That's what it looks like when you see the security camera footage of this Los Angeles County health inspector, who strutted into the Bravery Brewing restaurant and bar to bully the owner into closing his establishment immediately.
As soon as she thought no one was watching, this sociopath did a happy dance right in the middle of the floor. The camera caught it all. See for yourself:
An LA County health inspector dances moments after ordering @BraveryBrewing to close. She ended up being wrong. Ruined BB's Super Bowl business. If your restaurant has been bullied/intimidated by LA County Health, DM me. @KFIAM640 @johnandkenshow @GaryandShannon @CalRestaurants pic.twitter.com/QQXJ2POG70

— stevengregory (@stevengregory) February 15, 2021
According to Bart Avery, the owner of the bar, this lockdown psycho later said she closed the brewery by mistake. She initiated her closure based on there being no food truck on site. However, because the bar was only selling draft beer to go on that day, the business was not required to provide food according to the California guidelines.
The reactions to this story on Twitter are harsh:
Per @stevengregory – Moments after demanding a microbrewery in Lancaster close, this health inspector did a happy dance. Apparently, she was also wrong to shut them down and they were compliant. These stories about city officials bullying restaurants are getting all too common. pic.twitter.com/m0bY6xhQTK

— Chef Andrew Gruel (@ChefGruel) February 15, 2021
Watch this LA health inspector do "happy dance" after shutting down a brewery on Super Bowl Sunday, for allegedly not abiding to COVID restrictions.
I hope her next dance is performed in the unemployment line.
SMH.pic.twitter.com/QbQF950DnF

— DebraLee (@DebraLee_1234) February 16, 2021
A health inspector named Jatinder Chhabra did a happy dance moments after ordering a brewery (already struggling because of Covid lockdowns) in Southern California to close.
The brown shirt health inspectors are drunk on power and won't stop until the American people say "enough.

— badjrsGOred (@badjrsgord) February 16, 2021
The people of California do appear to be waking up (finally) and are in the process of recalling Governor Gavin Newsom. So there's that.
Hopefully these draconian lockdown measures will recede as we head into spring.
Here's a good article that goes into more detail about this story: A Day in the Life of a Brewery Being Crushed By LA's Ever-Shifting COVID Rules