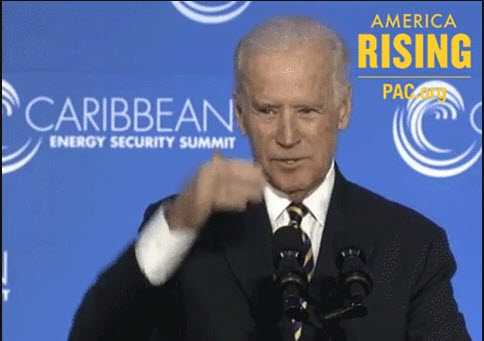 Joe Biden's radical left-wing policies and executive orders are bad enough by themselves.
But combining those policies with Joe's awkward, cringe-inducing personality only makes this nightmare worse.
This has to be why we rarely see Joe in front of a camera. Biden's handler's understand what a turnoff Joe's demeanor and mouth can be. So they limit his exposure to the public.
Even then, they can't keep Joe in the basement all the time. The President has to make some appearances. And when Joe does, there is ALWAYS a gaffe or a "I can't believe he said that" moment at some point.
Let's take a look at five of the most cringeworthy moments in Biden's young presidency so far. (It's only been four months?! Good grief. Feels like a year.)
5 Awkward Moments Between Biden and the Press Corps
"Get in front of the car as I step on it."
Biden avoided reporter questions in Michigan this week while test-driving Ford's new F-150 Lightning electric truck in Dearborn.

A reporter inquired whether she could ask Biden about Israel after almost two weeks of deadly clashes between the Israeli government and Palestinian militants, prompted by more Jerusalem evictions.

"No, you can't. Not unless you get in front of the car as I step on it," he quipped. "I'm only teasing."

Washington Examiner
What was even more cringeworthy was the suck up "journalist" who said "Best test driver ever!"
2. "Because I'm worried about you"
Biden deflected a reporter's line of inquiry this month regarding why he continued wearing a mask inside, despite him and many of the people with whom he comes into contact being vaccinated against COVID-19.

"Because I'm worried about you," Biden replied. "No, that's a joke. It's a joke."

He went on: "Why am I wearing the mask? Because when we're inside, it's still good policy to wear the mask. That's why."

Washington Examiner
3. "Gimme a break, man"
Biden deployed a 2020 campaign response to a reporter who needled him over whether his goal of administering 100 million COVID-19 vaccine shots during his first 100 days in office was ambitious enough to curb the pandemic.

"When I announced it, you all said it wasn't possible," Biden said during his first week in his new job. "Come on, gimme a break, man."

Biden revised his target before the 100th day of his presidency to 200 million doses after meeting his 100 million benchmark on his 58th. Approximately 220 million shots were given by his 100th day.

Washington Examiner
4. "You're a one-horse pony"
During transition, Biden could not contain his frustration with frequent foil Peter Doocy when the Fox News reporter grilled him on whether he still believed negative press about his son Hunter was "Russian disinformation" and "a smear campaign."

"Yes, yes, yes. God, love you, man — you're a one-horse pony, I tell you," Biden retorted.

On the campaign trail, Biden also called Doocy "classy" after he asked for the then-candidate's thoughts on becoming a grandfather again. A paternity test had revealed Hunter as the father of a daughter born in 2018 to an Arkansas woman named Lunden Roberts.

"No. That's a private matter. You're a good man. You're a good man. Classy," Biden said.

Biden similarly referred to a voter during the Democratic 2020 primary as "a lying, dog-faced pony soldier." Months before, he had accused another voter of being "a damn liar" for broaching Hunter's business dealings with Ukrainian oligarchy-linked energy company, Burisma Holdings.

"It was a joke," campaign spokeswoman Symone Sanders claimed of the "lying, dog-faced pony soldier" line. "Many people in the room laughed. And it was a line he has actually used frequently, which is from a John Wayne movie."

Washington Examiner
5. "Are you a junkie?"
Elsewhere on the campaign trail, Biden snapped at a black radio host for bringing up whether the then-77-year-old should submit to a cognitive test given he would be the oldest president inaugurated if he won the election. Former President Donald Trump had bragged about scoring 30 out of 30 on a cognitive test during his last physical.

"That's like saying you, before you got in this program, 'Will you take a test, were you taking cocaine or not?' What do you think, huh? Are you a junkie?" he told a combined convention of the National Association of Black Journalists and National Association of Hispanic Journalists.

Washington Examiner
This is not a complete list, of course. There are many other bizarre ramblings and awkwardly incomprehensible moments not included in this list.
What are some other cringeworthy moments you remember Biden doing or saying in 2021? Let us know in the comments.