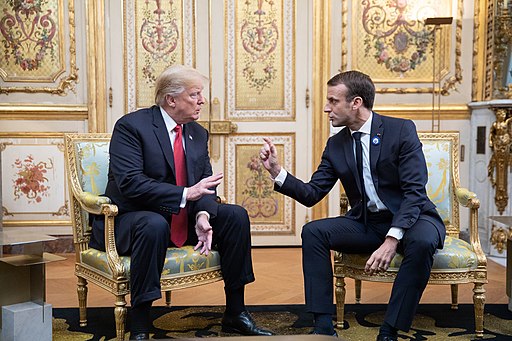 French President Emmanuel Macron slobbered kisses all over Joe Biden last weekend during the G7 summit.
Gross.
One thing Macron said in particular was so over-the-top in its arrogance that it drew Donald Trump's immediate rage.
Here is the revealing, hair-pulling comment Macron said:
Can you believe this guy?
So these G7 leaders didn't consider Donald Trump to be a part of their club?
Maybe our 45th President wasn't interested in being a part of your "club", Macron.
Of course, these G7 leaders love Biden, as Joe will do whatever they want, not hold them accountable and the U.S. will go back to paying the tab for everything.
Trump was not amused by all this taking place in England over the weekend.
So Trump released a blistering response to Macron's comment (published by his Save America PAC):
"This was a quote by the President of France. He and many other Leaders before him, in France and throughout Europe, were ripping off the United States like never before. We were treated very unfairly with horrible trade deals, and paying for a large portion of their defense.

"They were taking advantage of the United States and therefore, of course, they like Biden because now they will be allowed to return to their old ways of ripping off our Country. If I were a leader of these countries, I too would like Biden far better than President Trump.

"They will now get very rich off the United States just like they have in the past until a change is made. I am for AMERICA FIRST!"

NewsMax
Macron, Boris, Trudeau…this same "club" got busted on video in 2019 mocking President Trump during a G7 reception at Buckingham Palace.
Message to Macron from 75 million Trump voters: we don't want to be a part of your stupid club. And we don't want to cooperate with your radical liberal G7 agenda.