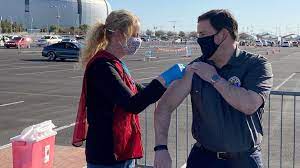 Score another win for common sense and freedom.

As reported by The College Fix, Arizona's colleges cannot force students to receive the Covid shot or wear masks in classrooms.

Republican Gov. Doug Ducey signed an executive order last week to put college administrators in their place. It stripped them of the power to force students into risky and unnecessary healthcare decisions.

The order stated:
"… students cannot be mandated to take the COVID-19 vaccine or submit COVID-19 vaccination documents. Students also cannot be mandated to be tested or wear masks in order to participate in learning."

This is in response to Arizona State University's announcement on June 14. It said that next fall, students returning to campus will have to prove they took the COVID-19 shot.
If students failed to provide proof, then the school planned to force them into "daily health checks, twice weekly testing and mandated mask-wearing." For an indefinite amount of time.
Ducey's order blocks ASU – and all other colleges in the state – from enacting these bad policies.
"Public education is a public right, and taxpayers are paying for it. We need to make our public universities available for students to return to learning. They have already missed out on too much learning. From K-12 to higher education, Arizona is supporting in-person learning.
Ducey's order proved his commitment to religious liberty, the state constitution and civil liberties. And to federal and state laws that give "individuals the option to accept or refuse vaccinations," except with certain highly infectious and deadly diseases.
The case and death numbers from Covid-19 are much lower in almost every state than they were a year ago. And it looks like the virus has run its course.
Plus, several random control trials have shown that mask-wearing doesn't work to keep people healthy. The most notable is a British 1981 study from the Royal College of Surgeons. The study concluded that wearing a mask in operating rooms made no difference in the odds that someone would get sick.
Random control trial (RCT) studies are considered the best form of proof in science and medicine. There has been ZERO RCTs to prove that wearing a mask works to fight disease or stay healthy.
Whether someone wants to take the Covid vaccine should be their choice. And not required by a school, government or anyone else.
Props to Governor Ducey for taking a stand for medical freedom.