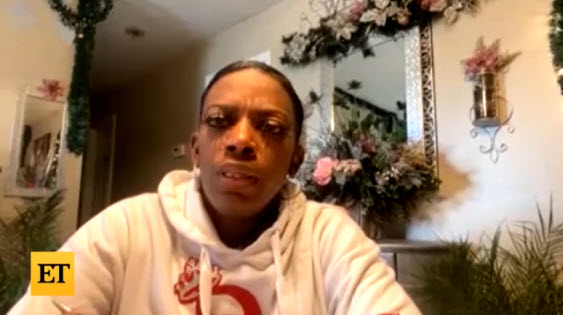 The internet has been riveted by the hairy predicament a Louisiana woman found herself in this week.
Tessica Brown made a nightmare hair blunder when she grabbed a bottle of what she thought was hair spray and liberally went to town smothering her scalp.
The problem was that she didn't pick up her hair spray–she applied a heavy dose of Gorilla Glue adhesive spray and well, it turned out as horrible as it sounds.
In case you need a quick catch up, here is the gorilla glue girl herself sharing what happened:
#gorillagluegirl part one pic.twitter.com/uoHoPnks9y

— 2talk9ja (@2talk9ja) February 8, 2021

The internet has been glued to this story, as Brown kept people updated on the situation while trying to figure out what to do.
Here are some of the best tweets posted along the way as the hashtag #GorillaGlueGirl went viral:
Going about my day and remembering #gorillagluegirl pic.twitter.com/5JiyByxIQu

— ife.dola_ (@Thatgirl_ife) February 7, 2021
y'all think if i use this to apply my lashes , i'll get famous 😭? #gorillagluegirl pic.twitter.com/JBaAHpHkUR

— niyahthestallion (@niyahcodiee) February 10, 2021
Somebody said #gorillagluegirl was hardheaded and I- pic.twitter.com/aaSh3qa9ds

— everyoneloveszc.💜💫🏁 (@_AllEyezOnZee) February 8, 2021
I just caught up on this #gorillagluegirl story and it's making me cringe. Getting touch ups or relaxers when I was younger was traumatizing enough. All them chemicals??? pic.twitter.com/pxSpmI2WSS

— Goldengirl335 (@GoldenGirl335) February 11, 2021
Now this next tweet did turn out to be a hoax. However, this is still funny:
Epic response to #gorillagluegirl
🤣 she's not feeling so blessed today 🤦‍♀️ pic.twitter.com/tZAB0Ej28c

— KayDee (@KayDeeLites) February 8, 2021
I decided to do a quick painting of @im_d_ollady wishing you a speedy recovery. Add me on tik tok:@bugzdale #bugzdale #dababy #painting #drawing #fineart #ortrait #portraitpage #celebrity #tessicabrown #gorillaglue #gorillagluegirl #gorillagluechallenge pic.twitter.com/F83rRxIkmS

— Bugzdale Media LLC (@bugzdale) February 10, 2021
That gorilla glue situation reminds me of that movie Cloudy With A Chance Of Meatballs when he sprayed his shoes on & never got them off 😭😭 lmaoooo #gorillaglue #gorillagluegirl

— Malia Ditoma (@DitomaMalia) February 9, 2021
Why I'm I so invested in this?😂😂😂 She just responded. #update #gorillagluegirl pic.twitter.com/9pgIe0aIKf

— K (@ooowelll) February 9, 2021
My Valentine's Day Card!#officialchika #officialchikagaming #gorillaglue #gorillagluehair #gorillagluegirl #ValentinesDay #Valentine pic.twitter.com/RLbrSNOzIX

— OfficialChiKa Gaming (@_thereal_chika_) February 9, 2021
So it turns out I bought this glue gun a couple of years ago from Amazon but I've never actually used it. After all the drama around that Gorilla Glue spray, I'm going to try this on the pieces of my broken heart.

*Cue Bon Jovi!
🎶Shot through the heart…🎶#gorillagluegirl pic.twitter.com/SuvGWQZG0J

— Patricia Supabrite Kihoro (@Misskihoro) February 11, 2021
Fortunately, this story does have a happy ending. A plastic surgeon came to her rescue:
Let's give it up for Beverly Hills-based Ghanaian surgeon, Dr Micheal Obeng who just saved #gorillagluegirl from her predicament.

Dr. Obeng performed the $12,500 procedure on Tessica for free. Ghana to the world 🌎🙌🏿❤️🇬🇭 #BlackHistoryMonth #Ghana pic.twitter.com/ZDV2tRsitK

— www.braperucci.africa (@Bra_Perucci) February 11, 2021
He volunteered to remove the industrial strength object off her head at no charge.
It took four hours, but the heroic doctor succeeded.
Tessica #gorillagluegirl finally comes unglued after a miracle 4 hour surgery. pic.twitter.com/iJeSfVa9HL

— Africans in Diaspora (@DiasporaIn) February 11, 2021
Brown has been through one of the hairiest experiences to ever be recorded on the internet. She regrets posting the video that started all this. However, she ended up finding a qualified surgeon who offered to remove the Gorilla Glue pro bono. And now Tessica Brown can rest her head easier and move on with her life.
The real question now is: When will this story get turned into a movie?