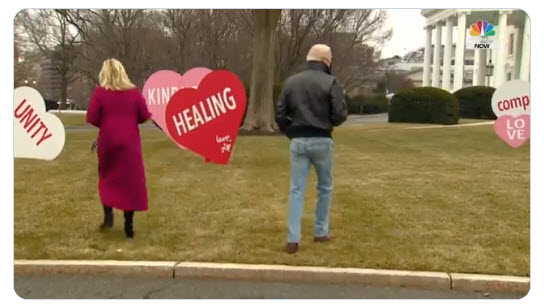 On a crisp Friday morning, Jill Biden took her husband Joe out for a walk on the White House lawn to show off the beautiful Valentine's Day decorations she had made on the taxpayer's dime.
The decorations look borderline cheap–definitely on the simple side. They appear to be something anyone could have made.
See for yourself:
President Biden and First Lady Dr. Jill Biden visit Valentine's Day art installation organized by the First Lady at the White House on Friday morning.

"Valentine's Day is a big day. Jill's favorite day, for real." pic.twitter.com/dADpQ59vR3

— NBC News (@NBCNews) February 12, 2021
But hey, the Biden's want to give everyone hope. Courage. And really want us all to…oh, I can't type this without laughing…unify.
So why aren't you unifying already?
Maybe because, while Joe is shuffling around the lawn looking lost, only a sparrow's flight away at the Capitol building, Joe and Jill's favorite political party was continuing their unconstitutional clown show.
Many on Twitter could see right through this charade:
They're holding an impeachment trial for a guy who's no longer president and Jill Biden's putting "Unity" hearts on the White House lawn. 😂😂😂 https://t.co/YjBqGve4R7

— Fuzzy Chimp (@fuzzychimpcom) February 12, 2021
Meanwhile, over on the Hill, President' Trump's legal team put together this fantastic video showing Democrats 'inciting violence.'
Trump lawyers show montage of Democrats 'inciting violence' by telling their supporters to 'fight like hell' pic.twitter.com/pXXDrHQAJI

— Ian Miles Cheong (@stillgray) February 12, 2021