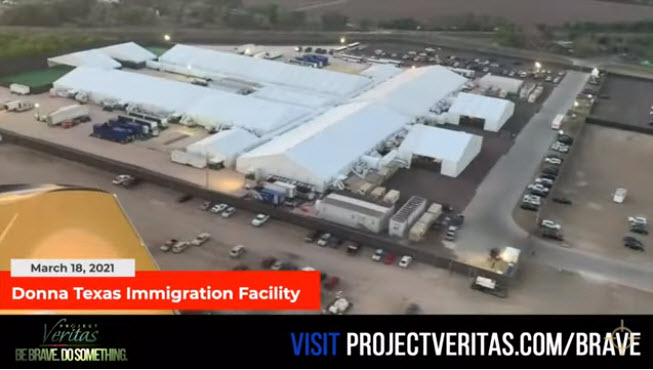 An insider who has access to an immigrant detention center in Donna, Texas has leaked video footage of the facility to the news agency Project Veritas.
PV then published the video content to expose what's really going on inside these immigrant detention centers under the Biden Administration's authority.
A source reached out to Project Veritas and explained the conditions that these migrants face on a regular basis while detained at this facility.

"These photos were taken within the last few days. There are eight pods with eight cells each in the facility. At any given moment there are an average of 3,000 people in custody here," the source said.

"They [illegal immigrants] are separated by age or physical size depending on room. Fifty were COVID positive in these cells over the last few days. There have been multiple sexual assaults, normal assaults and daily medical emergencies," they said.

Customs and Border Patrol [CBP] completed the construction of this 185,000 square foot facility in Donna, Texas just over a month ago – it was designed to house hundreds if not thousands of migrants on a daily basis that come into the U.S. illegally.

Project Veritas
As you can see on the video along with the horrific footage, Project Veritas founder and CEO James O'Keefe visits the Donna detention center last week and is forced off the property by security. One staff member said the location was "private property." The video also includes video from above the facility, as the airspace above is NOT private property, thus giving O'Keefe and great birds eye view of the layout.
Here is the video and below that is some additional photos:
How do these images make you feel? Share with us in the comments your thoughts.