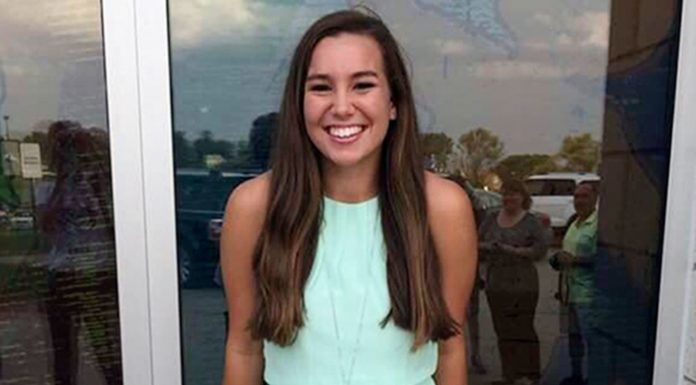 On May 28th, an Iowa jury found a illegal alien from Mexico guilty of murder. It was for the stabbing death of 20-year-old Mollie Tibbetts.
By a 12-0 verdict, they found Cristhian Bahena Rivera guilty of first-degree murder. Ms. Tibbetts is remembered by family as a friendly 20-year-old who was studying to become a child psychologist.
Bahena Rivera will be sentenced to life in prison without parole. He was arrested in Iowa back in August 2018, and Judge Joel Yates ordered him to be held without bond.
The jury gave their verdict after a two-week trial at the Scott County Courthouse in Davenport. The 12-member panel weighed the evidence for seven hours on Thursday and Friday before they made their decision.
Mollie Tibbetts went out for a run in her hometown of Brooklyn, Iowa on July 18, 2018, but she never came back. She was reported missing the next day, when she didn't show up for her summer job at a local daycare.
Her disappearance from the small town of 1,700 was considered suspicious. This started a search for her that included local, state and federal agencies and hundreds of volunteers.
Investigators broke the case nearly a month later, after they watched surveillance video from a homeowner. It showed, for a split second, a shadowy figure that appeared to be Tibbetts running in the distance. The video also showed a black Chevy Malibu with chrome mirrors and door handles that drove by 20 seconds later. The vehicle drove back and forth several times over the next 20 minutes.
The day after the video review, a sheriff's deputy spotted the Malibu. Authorities took Bahena Rivera in for questioning. On August 21, he confessed to the crime. And led investigators to a remote cornfield, where they found her badly decomposed body.
Over 1,600 years ago, a Greek philosopher said: "At some point a sinner will be punished; many decisions or events that are important in one's life take time in coming."
Although it took time, justice was served for the family and friends of Mollie Tibbetts. Let's hope and pray that it continues to be served in more places across the United States.