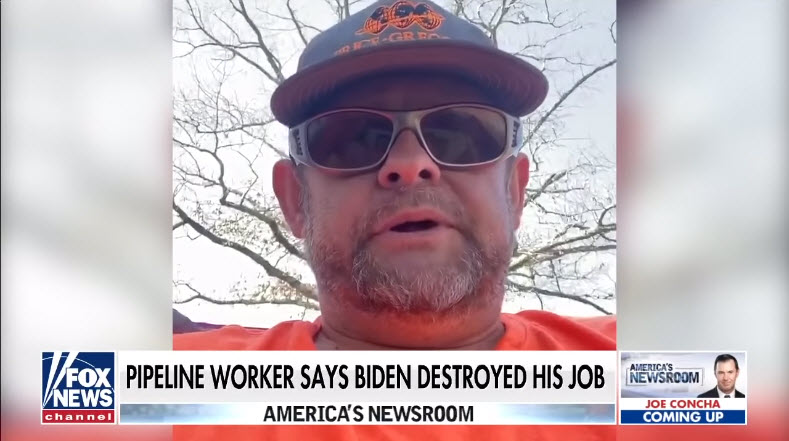 Jason Jernigan had a good high-paying job until Biden suddenly 'canceled' it. One stroke of the pen and Jernigan had lost his livelihood.
"I've been pipelining for 21 years. This is all I know how to do."
Those gut-wrenching words from Jernigan were heard on FOX News today. Jernigan was one of thousands of union workers laid off when the Biden Administration shut down the Keystone Pipeline.
When Dana Perino asked Jernigan about going to work for the solar panel industry, he said that would require a cut in pay minus $35 an hour, according to his research.
This man doesn't know where he will find work next, saying that no one in the solar panel industry has contacted him and he does not know at this time if he can find a "green" job.
A welder also appeared on FOX and shared his story. "
"It's a pretty good gut punch, you know, kind of like a slap in the face," Lynn Allen, who has been a welder for 34 years, told "Fox & Friends First" on Wednesday. "That's all you work for, what you work towards all your life, and that's your calling in life, and they're telling you go get another job and try to go get green jobs."
Allen is a dad to three children and he's feeling this inexplicable move by Biden, along with thousands of other families who have been affected by Joe's devastating decision, which has also made our country dependent on middle eastern oil once again (something that President Trump had changed, turning the U.S. into the world's biggest oil producer.)
Let us know in the comments if you or someone you know has been affected by the closure of the Keystone Pipeline.