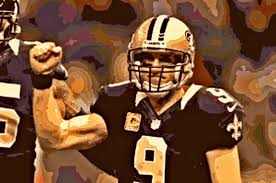 Saints quarterback Drew Brees has multiple rib fractures on both sides of his chest and a collapsed lung on the right side, according to ESPN's Ed Werder.
It remains unknown how much time Brees may miss with these injuries, which he reportedly suffered over two weeks. Werder reports Brees sustained two fractured ribs against the 49ers on Sunday and three others in Week 9 against the Buccaneers. His first three rib fractures were not seen on an X-ray until Monday, and Brees "has been advised to be cautious with the collapsed lung."
Earlier on Monday, NFL Network's Ian Rapoport reported that Brees had a rib contusion and could be out for some time in order to fully heal from the injury. Brees did not play in the second half of Sunday's game after he was injured midway through the second quarter. The 41-year-old quarterback took a sack from Kentavius Street and remained in the first half, but he informed coaches at halftime that he was unable to continue.
After the game, coach Sean Payton said Brees would undergo an MRI and X-rays to assess the severity of the injury. 
KEEP READING

Image Credit: Needpix.com