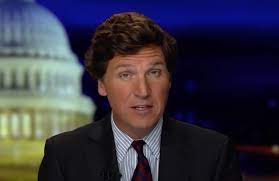 It's official. The National Security Agency (NSA) admits that it 'unmasked' Tucker Carlson through a third party. This occurred when the NSA gathered intelligence on Russian officials here in the U.S.
Carlson reached out to these officials to discuss doing an interview with Russian president Vladimir Putin. The NSA spied on the Russians, which is where it got the information.
Tucker first accused the NSA of spying on him during a June 28 segment of his show. That's when he said that a source from inside the federal government tipped him off to the spying. Carlson confirmed that the spying was taking place, he said, when the source repeated information about a story Carlson was working on. And it could have only been gathered from the Fox News host's private texts and emails.

Mark Steyn on Fox News reported the story on Friday, which came from an article on a website called The Record.
Fox News also issued a statement to The Record:
"For the NSA to unmask Tucker Carlson or any journalist attempting to secure a newsworthy interview is entirely unacceptable and raises serious questions about their activities as well as their original denial, which was wildly misleading."

It looks like a government agency used info to attack political opponents, instead of for national security. And it looks like what socialist and third-world governments did to anyone who spoke out against them.
An American talk show host reaching out to interview a foreign leader is hardly "extraordinary circumstances" to justify this action.
Let's hope that this "sunshine" of truth helps prevent other possible actions like this in the future.