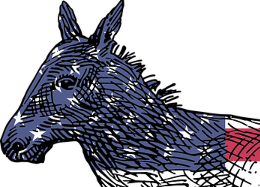 The Democratic Party, in this day and age, is a weird mix of special interests that sometimes clash but work together because they all oppose traditional values of character and political conservatism.
In a surprising admission, though, one Democrat is now warning that their party is about to fall on hard times. Jack Phillips writes,
A Democratic candidate who lost her bid during last weekend's Texas congressional special election sounded the alarm that the 2022 midterms "could be a major setback" for the Democratic Party.

During the special election, two Republicans—and no Democrats—advanced in the runoff as the top two vote-getters in the race for Texas's 6th Congressional District, after no one in the 23-candidate field won an outright majority of votes on May 1.

Republicans Susan Wright, wife of the late Rep. Ron Wright, finished with 19 percent of the vote, while Jake Ellzey garnered 14 percent. Democrat Jana Lynne Sanchez finished third with 13 percent and conceded on May 2.

"On Saturday, Republican candidates got 62 percent of the vote to 38 percent for Democrats (R+25). All the things I thought would motivate Democrats, such as the attempted violent overthrow of a legitimate election result, along with Snowmaggedeon … failed to get our voters out," Sanchez wrote on Monday after conceding defeat.

"I'm sounding the alarm bell: If Democrats don't organize and prepare, 2022 could be a major setback to our gains of recent years," she said.

Wright, notably, was endorsed by former President Donald Trump, who on Monday championed his endorsement.
Here's the thing that Sanchez isn't acknowledging: Democratic voters have been organizing. The problem for them is that, too often, instead of organizing to vote, those people have been organizing to riot because even they aren't happy with the current Democratic leadership in their areas.
I'd say that Sanchez's warning is a good sign for political conservatives as we look towards next near's mid-term elections, but real conservatives need to get out and get involved so that Republicans put forth conservative candidates instead of RINOs like Mitch McConnell and Liz Cheney.
What do you think: Do Republicans stand a good chance of taking back Congress in the 2022 mid-term elections? Tell us below.