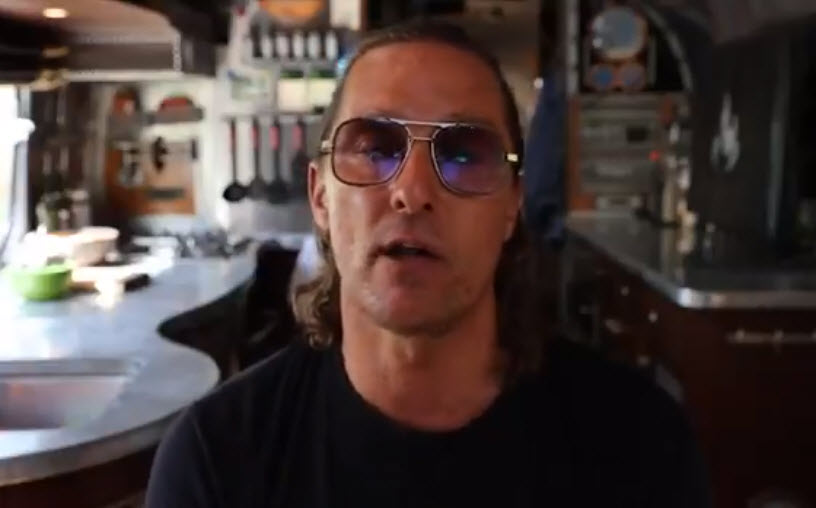 Entertainers have been known to cross over into politics.
Ronald Reagan was a popular movie actor when he entered politics, eventually becoming the Republican Governor of California and then President.
Arnold Schwarzenegger was a ginormous movie star when he became a Republican Governor of California.
Even a former pro wrestler became an Independent Governor of Minnesota not that long ago.
And according to a new poll, another movie star could become the governor of Texas – if he wants the job.
Matthew McConaughey is now leading in support of all the candidates, including incumbent Governor Greg Abbot, according to a poll released April 18 by The Dallas Morning News and the University of Texas at Tyler.
However, the results indicate his path to victory has some rocky patches.
If he were to take the plunge and run for governor, the poll found, 45% of Texas registered voters would vote for McConaughey, 33% would vote for Abbott and 22% would vote for someone else.

McConaughey's double-digit lead over the two-term Republican incumbent is significant. The poll, conducted April 6-13, surveyed 1,126 registered voters and has a margin of sampling error of plus or minus 2.92 percentage points.

But 56% of Republican voters said they'd vote for Abbott, compared with only 30% for McConaughey.

While Democrats broke 66% to 8% for McConaughey, and independents 44% to 28%, more than twice as many Democratic primary voters — 51% — said they wanted a progressive candidate for governor than wanted a centrist — 25%.
Some of the Trump supporters warm to celebrities, and that sentiment, along with the wishes of one-fifth of the primary electorate for a more moderate nominee, might open a lane in the GOP primary for McConaughey, said UT-Tyler political scientist Mark Owens, who directed the poll.

"Matthew McConaughey gets a huge boost from tremendous name recognition and recognition for what he does to help Texans and add to the celebration of the state's successes," Owens said. "Most of our survey respondents know his story, but many are waiting to see how he opens his next chapter."

Dallas Morning News
Some political observers are comparing McConaughey to Donald Trump because of their similarities in appeal: both are political outsiders who rail against the corrupt system. Both call the system ineffective and in need of reforms.
McConaughey has been teasing his fans about a possible political career during many of his media interviews over the past year.
But we don't know for sure if he would run as a Republican.
And we don't know enough about McConaughey's views. How would he govern once in office?
Sometimes newbies in politics end up disappointing voters.
However, there are times when someone unknown turns out to pleasantly surprise many people. Like, Donald Trump did.
Keep your eye on McConaughey. The Democrats would love to turn Texas blue. McConaughey has the name recognition advantage if he ever does decide to run.
How well he would support conservatives is a big unknown at this point.
Do you hope Matthew McConaughey runs for the Texas Governorship? Tell us why or why not in the comments.