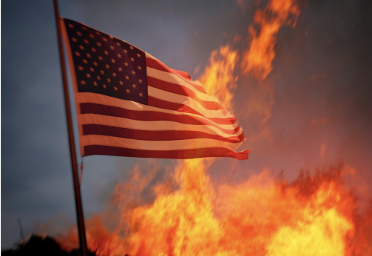 That's right, folks! Minneapolis is in flames (again). The unhinged leftists are rioting, looting, and burning down the city because a violent felon wanted on gun charges was shot by the U.S. Marshal's Fugitive Task Force for firing his gun at officers.
Police officials in Minnesota say the U.S. Marshal's Fugitive Task Force attempted to arrest 32-year-old Winston Boogie Smith on June 3 for a warrant for being a felon in possession of a firearm, the Associated Press reported. As sheriff's office deputies assigned to the task force approached Smith's vehicle, he reportedly refused to comply with orders and pulled a handgun. Officials confirmed Smith fired at least one shot from inside his car.

Breitbart
Smith, 32, died at the scene from shots fired by two Sheriff's Office Deputies assigned to the Task Force.
Normally, this would be an open-and-shut case of self defense. In a sane world. But in the world of "defund the police," criminals have more rights than law enforcement officers.
And guess who has to pay the price? Innocent business owners and civilians trying to mind their own business. Take a look at this Tweet:
Let's be very clear: if a police officer is guilty of murder, or any other type of misconduct while wearing the badge, that officer should be fired and prosecuted to the fullest extent of the law.
But if they're fired upon first by a violent felon? Members of law enforcement are going to defend themselves. Pure and simple.
Now, we're losing the beautiful city of Minneapolis to leftists rioting because leftists are believing the big lie pushed by Democrats: that police officers are racist killers with guns.