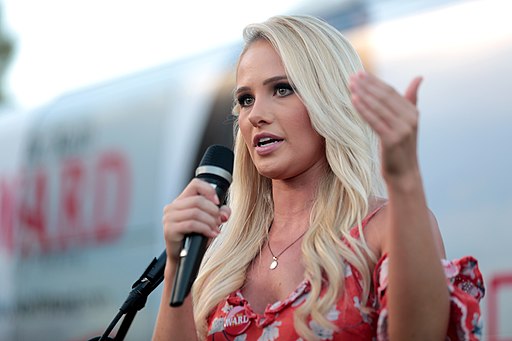 Conservative babe Tomi Lahren gave mad props to Florida Republican Governor Ron DeSantis on Tuesday for his signing of the Florida State Senate Bill 7072.
Lahren said Tuesday that DeSantis has "gone to bat for freedom and against censorship with his Big Tech Bill, leading the way and proving that leadership still exists in government."

"Zuckerberg and pals should be shaking in their hoodies," she said after DeSantis signed the bill, which was sponsored by State Sen. Ana Maria Rodriguez, R-Florida Keys.

"A lot of leaders, even on the right side of the aisle have talked and yapped and pontificated on what to do about Big Tech tyranny, but few have done much about it, if anything at all," she said.

Lahren criticized Congress for their inaction in the face of past hearings featuring Facebook's Mark Zuckerberg, Twitter's Jack Dorsey, and Google's Sundar Pichai.

"After hours and hours of testimony for years and years, nothing has changed and if fact, has only worsened," she said. "But where there's a will, or should I say a 'Ron' there's a way."

Lahren said Florida Attorney General Ashley Moody, a Republican, will be able to pursue tech companies in court if they allegedly violate the new law.

"This bill might sound like it's for conservatives but it's for everybody, just so happens it's us conservatives that fight this censorship uphill battle the hardest and in the most obvious way," she said. "Still, this move should be applauded by all Americans as free speech should be revered, cherished, and protected by us all."

"Sadly, the national mindset isn't there yet because folks on a certain protected side of the coin don't seem to care about free speech for those with whom they politically or ideologically disagree," Lahren continued.

Fox News
Tomi Lahren has a Twitter following of 1.6 million people. You should follow her if you haven't done that yet.
Because conservatives need to stick together, especially on social media.
If Tomi keeps blasting Big Tech like this, she too may end up getting banned by Twitter and Facebook.
We know those techie dictators are capable of censoring Tomi even though her following is over one million people.
If they did it to Trump, they might ban Tomi as well.
Oh, could you also follow Buzz America on Twitter please? We would greatly appreciate the support!