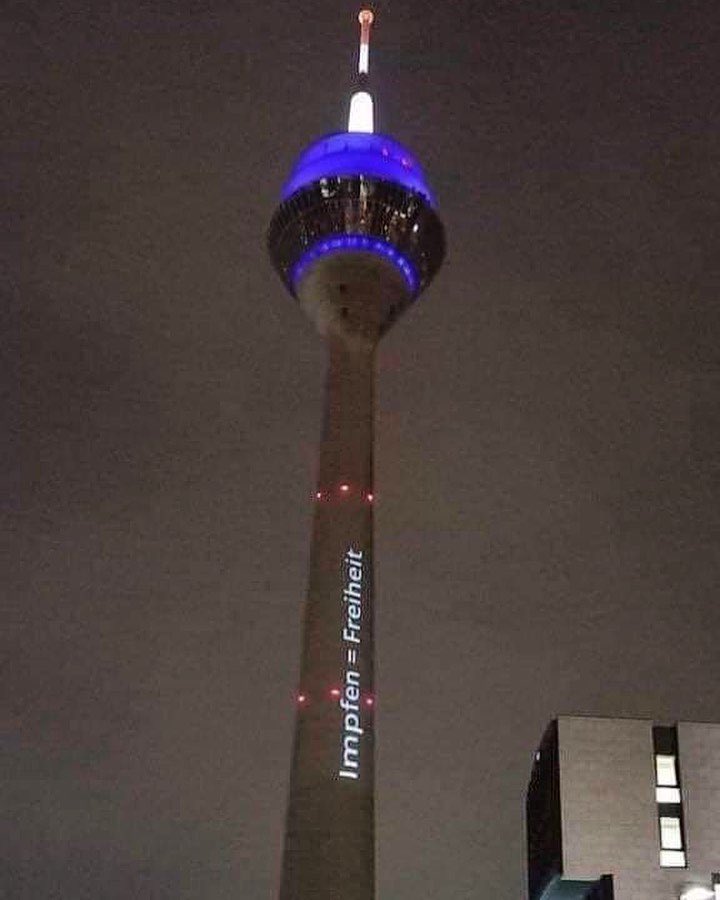 To promote vaccination, Germany has turned to Auschwitz for inspiration. But instead of "Arbeit Macht Frei" (Work Makes One Free), they've chosen the phrase…
Impfen = Freiheit
Translated:
Vaccination = Freedom
By the way, the image of the tower in this article is not photoshopped. I have verified it is real. A German website reported on the "art" project called "Leon Löwentraut: Together against Corona-Impfen = Freiheit."
The translated text reads, in part:
Spectacular light art performance in Düsseldorf: From Friday, March 5, 2021, the highest building in the state capital, the Rheinturm, at 240.50 meters, will be illuminated for a week from 7 to 11 p.m. with a collage of works by the young art star Leon Löwentraut – as a message of hope and a call to cooperation during the pandemic.

The art project "Leon Löwentraut: Together against Corona-Impfen = Freiheit" is being realized by the internationally active art project developer Marcus Schäfer, idea generator and organizer, in close cooperation with the state parliament of North Rhine-Westphalia and the Düsseldorf gallery Geuer & Geuer, as well as the support of selected ones Sponsors and sponsors.
The project is part of the United Nations' #Art4GlobalGoals campaign. The images projected onto the Rheinturm tower depict the 17 sustainability goals of the UN as envisioned by the 23-year-old Löwentraut. The artist advocates vaccination, saying:
We now have to develop sensible strategies quickly in order to finally get out of the crisis. Otherwise we will jeopardize the future of the children I photograph and their children. Each of us should be responsible not only for himself but also for his fellow human beings and for the next generation. This currently includes that we get vaccinated. This is the only way we can defeat the virus and return to a sustainable life in dignity and freedom.
These "sensible" vaccination strategies remind me of the near-constant calls by Democrats in the U.S. for "commonsense" gun control.
Given the phrase chosen to promote vaccination, it's only natural to wonder: Has Löwentraut ever heard of Auschwitz? Is the mimicking of "Arbeit Macht Frei" intentional or merely coincidental?
What are your thoughts about this "art" project? How does it make you feel to see propaganda equating vaccination with freedom? Leave a comment below.