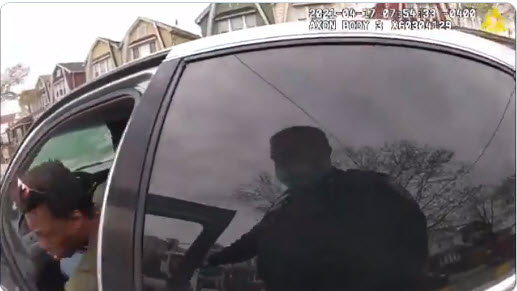 The Radical Left continues to scream "Defund the Police" as part of their agenda to destabilize the United States.
After last year's riots in Minnesota caused the worst property damage in U.S. history ($2 billion), the mere mention of defunding the police seems totally absurd.
What's even more absurd is how the radical Left wants to replace police officers with social workers.
How is a social worker going to deal with a violent thug who knows the social worker is unarmed?
It's hard enough keeping law and order on the streets with armed police officers.
Just look at what happened in New York City on Saturday.
Two NYPD officers were conducting a routine traffic stop when one of the officers was surprise attacked with some sort of chemical.
A video from the NYPD officer's body camera is a shocking reminder that our boys in blue need to be armed while keeping our streets safe.
The incident started early Saturday morning when police pulled over a 44-year-old man for running a red light in the area of Claredon Road and East 45th Street in East Flatbush.

That's when police say the man threw bleach in the face of the officer before speeding off.

A few minutes later, not far away, other officers stopped the vehicle near the corner of 54th Street and Snyder Avenue. The suspect then allegedly threw a lit Molotov cocktail at them.

The bottle bounced off the NYPD car and broke when it hit the street.

The suspect again sped off, only to crash. He was then arrested.

At that time, officers discovered three additional Molotov cocktails in his vehicle.

The suspect has been identified as Lionel Virgile, of Bridgeport, Connecticut.

CBS New York
Keep that officer in your prayers. He was taken to a local hospital and is being treated for minor injuries to his face and blurred vision.
Charges against Virgile are pending.
Had enough of this "defund the police" nonsense? Express yourself in the comments.