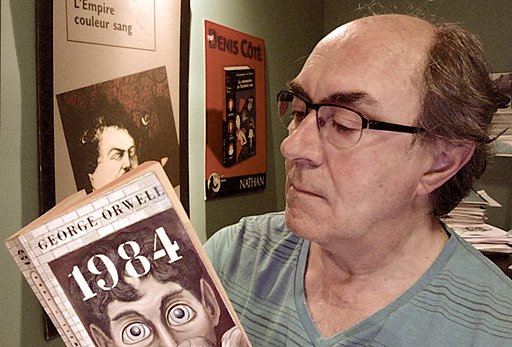 Right after the Capitol riot, Trump was banned from Facebook, Twitter, and Instagram.
But just this week, Facebook and Instagram took their Trump bans to the next level, and it's an asbolute slap in the face to 75 million Americans…
The latest example of 1984-like suppression of Donald Trump begins with his daughter-in-law Lara.
Big Tech Dials Up Its Permanent Cancellation of Donald Trump
Recently, Lara Trump began promoting an interview she was going to do with someone you may have heard of: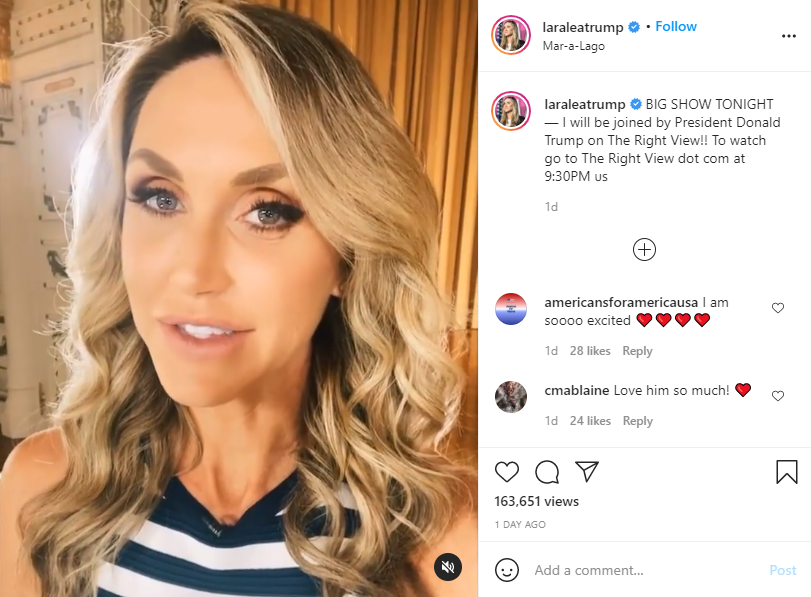 Here is the Twitter teaser Lara posted:
Lara Trump is a seasoned media personality, having been a regular on Fox News. She also might run for the Senate.
So she interviewed President Trump and posted it on social media.
And that's when Facebook and Instagram turned into Big Brother.
Immediately, the interview with President Trump was taken down – from Facebook and Instagram.
A rather creepy and heavy-handed direct message, don't ya think? It's not just Trump the person who's banned… it's now Trump's voice? Are we living in Communist China now??
This was Lara's comment on the IG message:
Eric Trump also received his own separate email from Sith Lord Mark Zuckerberg:
Are you kidding me?! Think about how dystopian it is to ban Donald Trump's voice! So are people who do impressions of Donald Trump also getting banned?
Eric Trump called Facebook's actions, "an absolute slap in the face to 75 million Americans."
Big Tech has flexed its fascist muscles ever since the Jan. 6 Capitol incursion. That is when it banned President Trump from Facebook, Instagram, Twitter, Snapchat, and other platforms.
Zuckerberg's post on Jan. 7 announcing the banning of the President of the United States was surreal, spooky, and infuriating for millions of Facebook users.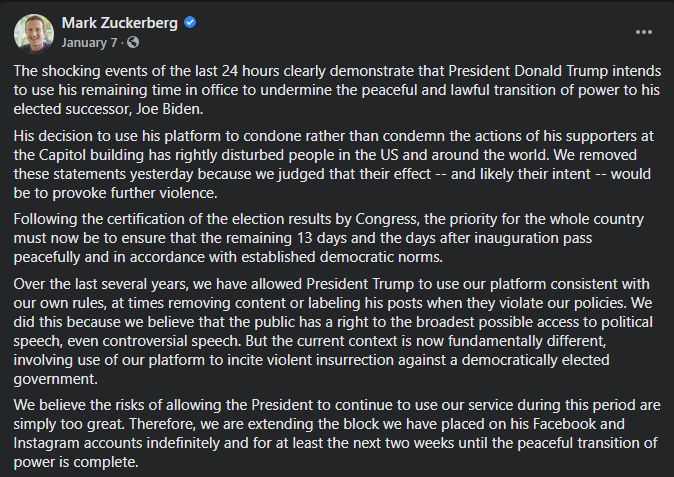 Big Tech is doing a lot of the dystopian heavy lifting these days with its thought control policies, censorship, spying, and manipulation of its users.
In the meantime, these draconian measures by Big Tech continue to drive millions of social media users to other platforms like Telegram, Gab, and Parler.
IMPORTANT: Lara's interview with Trump is now available to watch on Clouthub.
How do you feel about Big Tech's ongoing censorship of Trump — including his voice? Share your thoughts in the comments below.