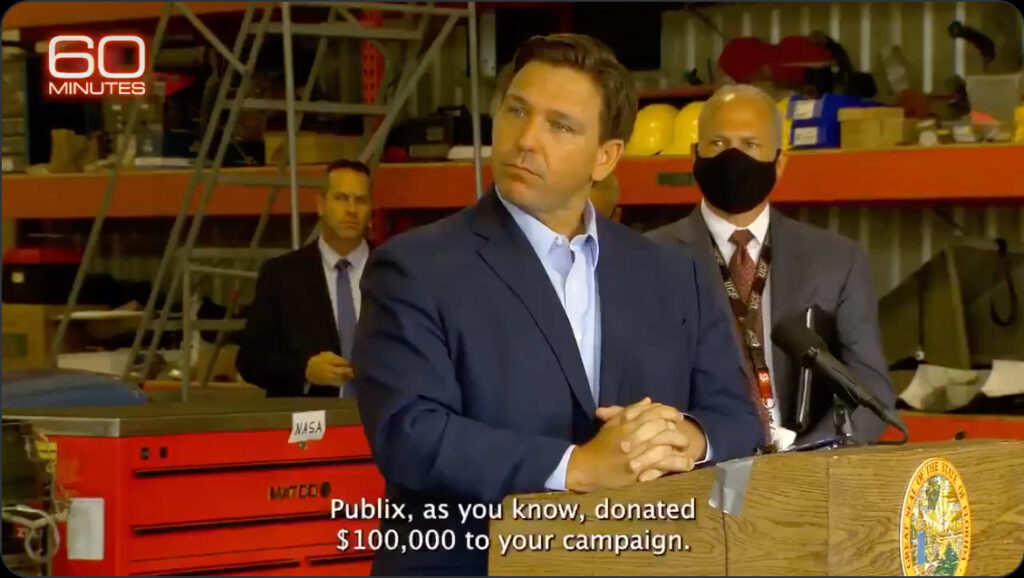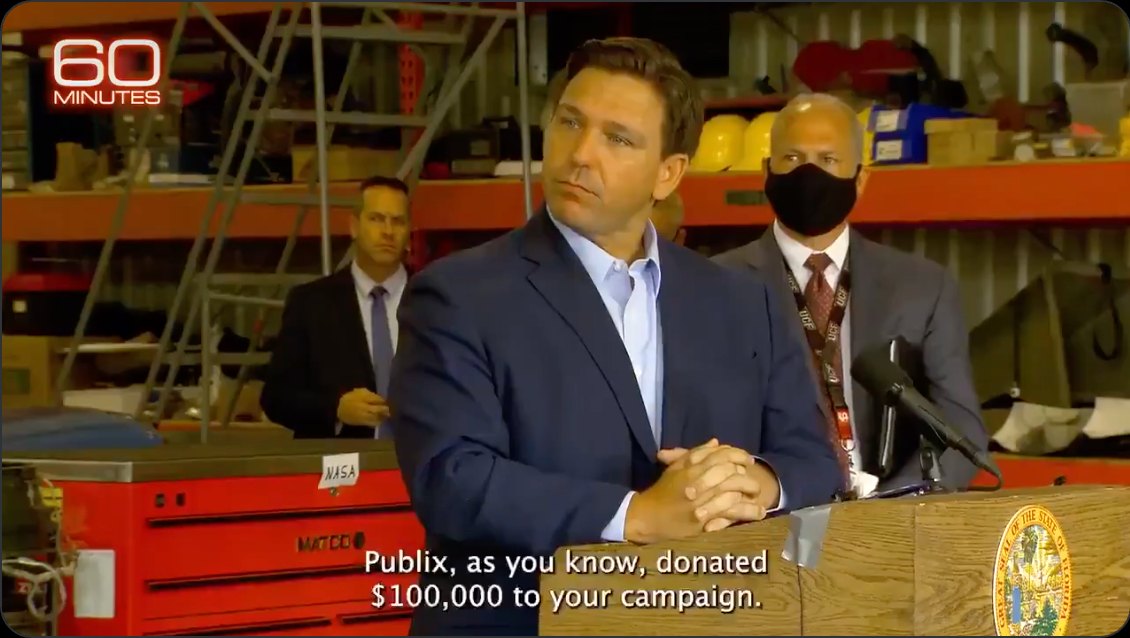 When a Republican Governor is doing all the right things and winning huge points with voters across the nation, what's the Democrat-controlled media to do?
First, try to dig up some dirt. But what if there is no dirt? Well, that's when the media turns to fabricating news.
That's exactly what 60 Minutes just did to Governor Ron DeSantis.
They sent out a reporter to sabotage DeSantis and suggest he was running some sort of "pay for play" scheme with the Publix grocery store chain. Then, after DeSantis responded, they edited the video down to make DeSantis look like a corrupt politician.
If all you saw was the short clip from 60 Minutes, you'd be scratching your head, wondering, "Why did DeSantis say THAT?" Well, he didn't say that. And a full unedited clip provides vital context for DeSantis's response.
Here's the video. In the first part, you'll see the edited clip aired by 60 Minutes. In the second part, you'll see the raw footage from a different angle.
How did 60 Minutes think they'd get away with this?
It's dishonest. It's unethical. And it's the opposite of journalism. It's propaganda.
Writing for The Federalist, Mollie Hemingway said this:
Rather than cover actual scandals involving Democrat governors and their botched responses to COVID, CBS' "60 Minutes" tried to invent a scandal involving Florida Gov. Ron DeSantis' distribution of vaccines. To push the false narrative and protect its favored governors, "60 Minutes" refused to interview people who disputed its false narrative, selectively edited video to hide facts, and omitted data that debunked its thesis and accurately describe Florida's success.

"60 Minutes," known best for pushing obviously forged documents weeks prior to the 2004 election in order to harm Republican President George W. Bush, took the approach of claiming that Florida's vaccine distribution has been uniquely "chaotic" and the result of some ill-defined "pay to play" conspiracy theory developed by its reporter Sharyn Alfonsi.

DeSantis's office offered multiple experts to talk Alfonsi off the ledge, but she absolutely refused to interview them. One of the experts Alfonsi refused to interview or feature on-air was Director of the Florida Division of Emergency Management Jared Moskowitz. The former elected Democrat is the state's point person on COVID.

DeSantis already explained on camera that there was no conspiracy and that Publix was one of several pharmacies involved in the effort to get the state vaccinated.

However, Alfonsi and "60 Minutes" selectively edited his answer to keep the substance hidden from viewers of the program. Left out of the "60 Minutes" deceptive edit was DeSantis's full explanation about how CVS and Walgreens were being used to focus on the long-term care facilities, that Publix offered help when they were looking for a way to help distribute to more people, that Palm Beach County requested the Publix assistance, that the program was tested before it was rolled out, and other key information. "60 Minutes" has not yet explained why they selectively edited his answer to omit the substance.

The Federalist
Unfortunately, this is the sort of unethical and deceptive reporting the American public is now having to deal with. And until the mainstream media completely implodes due to lack of credibility, it will continue.
Clay Travis — the Fox News reporter who shared the video above — followed up with this wise advice:
This is why I'd encourage anyone who ever gets interviewed by the media to record the full interview yourself be ready to share it for your protection. Facts don't matter, what you say doesn't matter, it's all about the preferred narrative of the media members & institutions.
So what do you think about how 60 Minutes smeared Ron DeSantis? Leave a comment below with your thoughts.