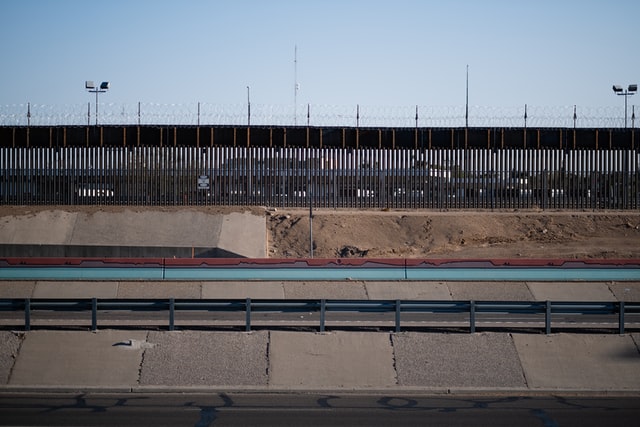 Instead of dealing with immigration properly, the Biden Admin simply spends taxpayer money to paper over the cracks.
The reason they do that is their own policies make the USA a magnet for migrants.
But they'll never go against liberal principles and deport people.
So what do they do instead?
Build shelters for them so they can stay here.
Yes, these are children separated from their parents.
But they're making the journey because of what Biden and his Administration have done.
Of course, Democrats are full of excuses:
The Biden  administration has blamed the unprecedented migrant surge on "root causes" such as crime, poverty, and climate change, as well as what the Democratic administration claims are the former Trump administration's perceived lack of preparedness to deal with the influx.

The Gateway Pundit
For Democrats, blame-shifting is a top priority.
It's always some vague cause, or somehow President Trump's fault.
In this case, it's both.
But they're hiding the truth, as they so often do.
So here's the real reasons:
Critics have blamed the rollback of Trump-era policies, as well as the decision of the Democratic administration not to apply Title 42  — which allows officials to quickly expel undocumented migrants to prevent the spread of the virus in holding facilities — to unaccompanied children.

It resulted in images of children being dropped and abandoned by smugglers in crowded Border Patrol facilities, as well as images of children being dropped and abandoned by smugglers in harsh environments.

The Gateway Pundit
The Democratic administration has also received backlash for easing border policies — which allowed migrants to easily enter American communities in the first place.

Meanwhile, the government is also paying for children's travel to their sponsors, as well as adult sponsors' visits to pick up minors that have been put in their care.

The Gateway Pundit
There is no border crisis other than the one the Biden Admin and Democrats have created!
And now they're wasting our money to deal with the symptoms and not the cause.
Why?
Because they want America to be filled with immigrants.
After all, they're far more likely to vote Democrat!