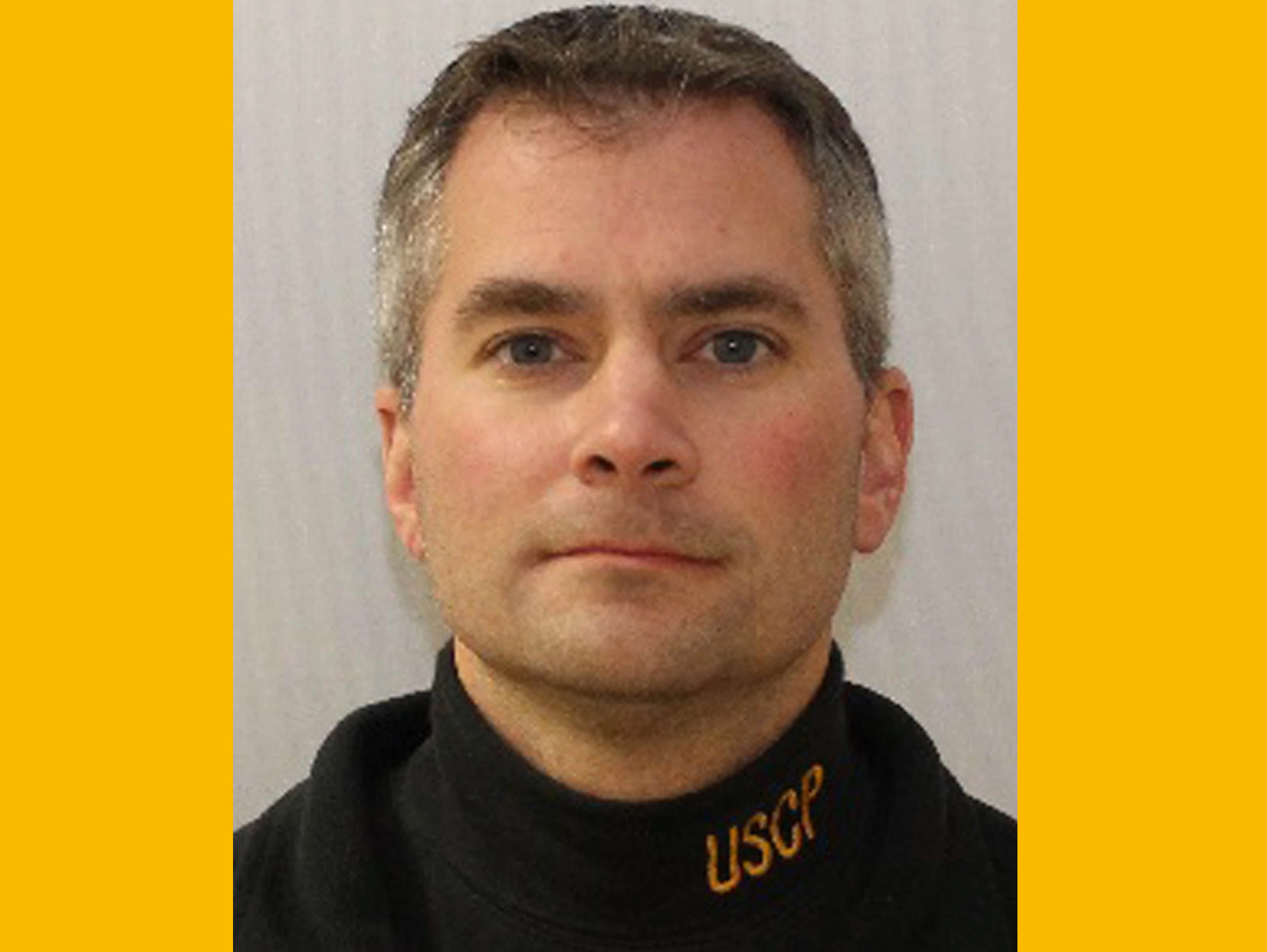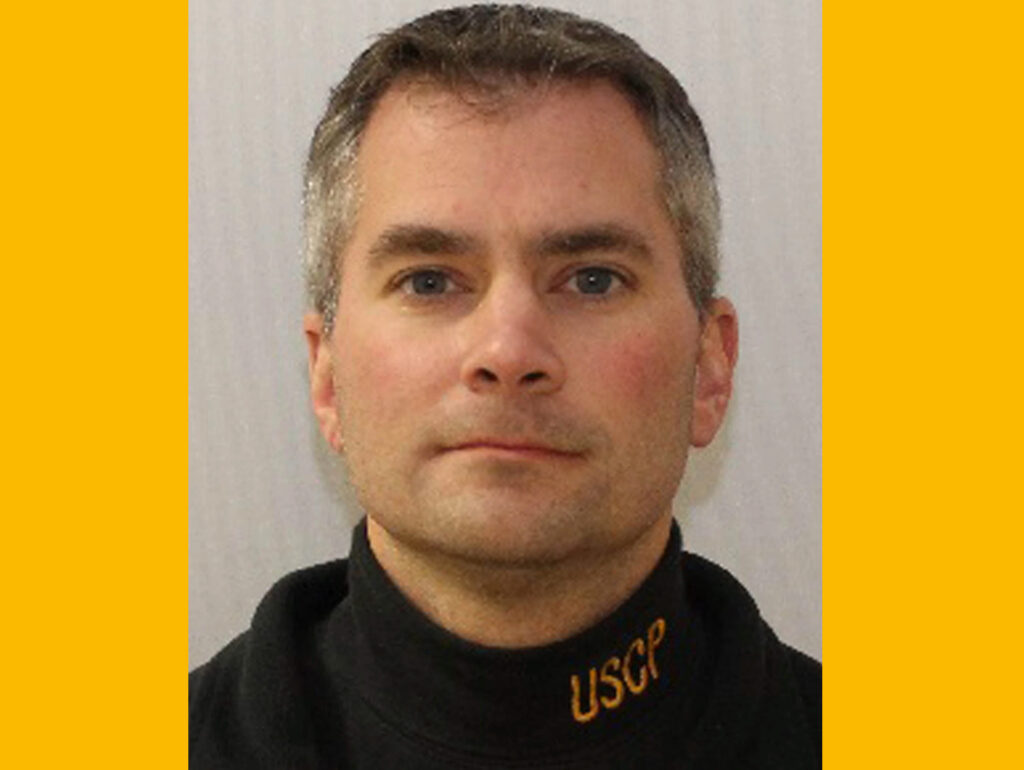 Five people died during the January 6th capitol riot, and for months their deaths have been used to advance a political narrative that Trump supporters are dangerous and violent.
This narrative doesn't hold up to scrutiny. But that hasn't stopped the Democrat-controlled media from pushing disinformation and propaganda to suit their purposes.
They may now be forced to change their tune as The District of Columbia medical examiner has released the cause of death for four out of the five people who died that day. USA Today reports:
Ashli Babbitt, 35, died by homicide from a gunshot to the left shoulder. She was shot by a Capitol police officer while trying to climb through a door near the House chamber.
Kevin Greeson, 55, died of natural causes from cardiovascular disease.
Benjamin Phillips, 50, died of natural causes from cardiovascular disease.
Roseanne Boyland, 34, died by accident from acute amphetamine intoxication.
Of these four, only Babbitt could seriously be called a victim. She was unarmed, and she was shot by a police officer — NOT a Trump supporter. Kind of destroys the narrative, doesn't it?
But what about Capitol Police Officer Brian Sicknick, the fifth person who died?
The New York Times and other media outlets initially reported that a Trump "insurrectionist" had beaten Sicknick to death with a fire extinguisher.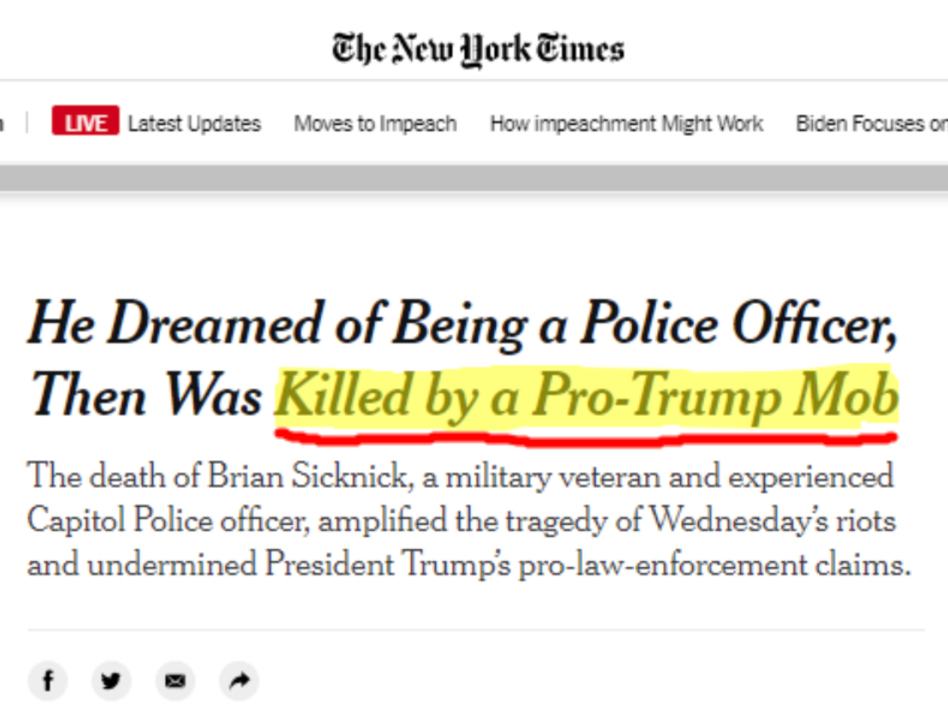 The NY Times went on to report the gory details of what they claimed happened to Sicknick…
"[P]ro-Trump rioters attacked that citadel of democracy, overpowered Mr. Sicknick, 42, and struck him in the head with a fire extinguisher, according to two law enforcement officials," Times reporters claimed January 8, the day after Sicknick died. "With a bloody gash in his head, Mr. Sicknick was rushed to the hospital and placed on life support. He died on Thursday evening."

The Washington Post editorial board couldn't get the basics of the sketchy story straight. "Officer Sicknick was pummeled by a rioter wielding a fire extinguisher, according to witnesses," the paper alleged, even though the Times cited law enforcement officials and not on-the-ground witnesses. The Wall Street Journal also published the claim repeatedly.

American Greatness
No evidence was ever produced to support the sensational story. No video. No blood. And no eyewitness reports — other than the two anonymous LEOs. All of which is strange when you consider thousands of people were present, and nearly all of them had cell phones and video recording devices. Wouldn't somebody have filmed the crime?
Not only that, there is evidence that Sicknick was still well and alive late on January 6, something that would have been impossible if he'd actually been bludgeoned with a fire extinguisher.
As it turns out, multiple hours after the protest had already concluded, Sicknick texted his own brother Ken that very night he was basically fine, other than being "pepper sprayed twice," confirming he was safe and "in good shape."

Revolver
Legacy news organizations might have reported this detail if they actually practiced journalism and called Sicknick's family members. But they're more concerned with creating politically advantageous narratives than discovering and reporting truth.
The NY Times has never let the facts get in the way of a good propaganda narrative. So even when the story began to fall apart, they didn't publish a big public retraction and apology. Instead, they quietly updated their story on February 12 — more than a month after their initial story — with this caveat:
UPDATE: New information has emerged regarding the death of the Capitol Police officer Brian Sicknick that questions the initial cause of his death provided by officials close to the Capitol Police.

American Greatness
So all of this begs the question: What really happened to Officer Sicknick? The New York Post comes to the rescue…
Never-before-seen video shows the moment a rioter blasted Capitol Police officer Brian Sicknick in the face with a chemical spray during the siege on the building.

Federal prosecutors presented police body camera footage of the attack for the first time in court on Monday — providing a clearer look into the events that are now being scrutinized in Sicknick's death.

Two of the rioters, Julian Khater and pal George Tanios, have been charged with assaulting Sicknick with bear spray. The 42-year-old officer died the next day.

The veteran Capitol cop, and New Jersey native, collapsed later that day and was taken to the hospital. He suffered a blood clot and stroke — and died the night of Jan. 7.

His autopsy and cause of death have not yet been released. But a law enforcement source told the Associated Press that evidence suggests he ingested a chemical — which may have contributed to his death.

NY Post
So it appears that Sicknick inhaled or ingested bear spray, which triggered some sort of reaction that led to a blood clot and stroke.
While Khater and Tanios have been charged, it does not appear that they specifically targeted Sicknick, but rather sprayed a group of officers. As the NY Post reports, "grainy body cam footage shows Khater raising his hand and deploying the chemical spray at the officers, including Sicknick, who then stumbles back."
Sicknick's death was tragic and unfortunate. But the details surrounding his death are a far cry from the sensational story promoted by the New York Times and other Democrat-controlled media.
Further contradicting the "violent Trump supporter" narrative pushed by mainstream media are videos from January 6 clearly showing Trump supporters trying to stop people from damaging and entering the capitol building. See the first and third videos below:
The bottom line: We still have to wait for Brian Sicknick's official cause of death to be released, but it appears that he died due to an unexpected reaction to inhaling bear spray.
Of the other people who died, only Babbitt was a victim of targeted violence, and she died at the hands of a capitol police officer.
All of this information strongly contradicts the idea that "violent Trump supporters" were somehow responsible for the five deaths that happened on January 6, 2021.