Big Tech tried to censor America's 45th President a few months ago.
The victory was only temporary.
Mark Zuckerberg, CEO of Facebook and Jack Dorsey, CEO of Twitter, didn't know it at the time, but what they did was set up Donald Trump to make a big comeback!
Behold! Trump's new platform "From the Desk of Donald J. Trump" is now LIVE at DonaldJTrump.com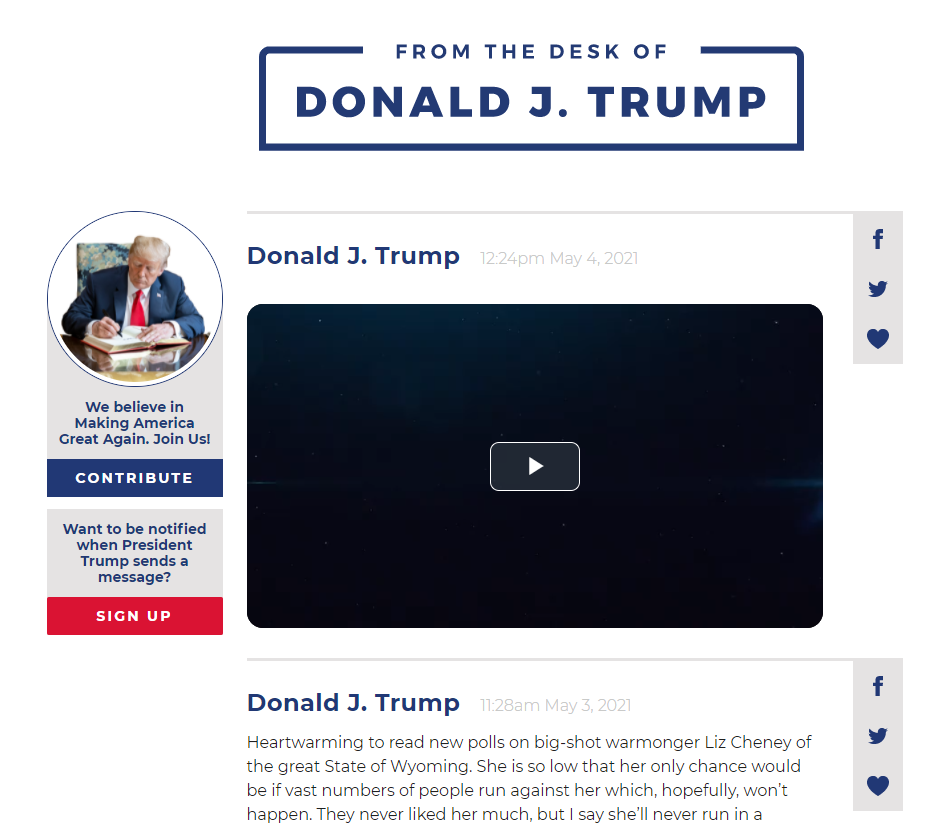 Former President Trump launched a communications platform on Tuesday, which will serve as "a place to speak freely and safely," and will eventually give him the ability to communicate directly with his followers, after months of being banned from sites like Twitter and Facebook.

The space allows Trump to post comments, images, and videos. 

"In a time of silence and lies," a video Trump posted to the platform Tuesday night says. The video then plays news reports describing his suspension from Twitter.

"A beacon of freedom arises. A place to speak freely and safely," the video continues, showing the new platform. "Straight from the desk of Donald J. Trump." 

The technology appears to be powered by Campaign Nucleus— the "digital ecosystem made for efficiently managing political campaigns and organizations," created by his former campaign manager, Brad Parscale.

The space allows Trump to post, and allows followers to share the former president's posts to Twitter and Facebook, however, the new platform does not have a feature to allow users to "reply" or engage with Trump's posts.

"This is just a one-way communication," one source familiar with the space told Fox News. "This system allows Trump to communicate with his followers." 

Fox News
If followers want to receive alerts whenever Trump posts a new message, they can opt-in to the website's contact list.
Facebook and Twitter were not the only platforms that banned the former President – Instagram, YouTube and Snapchat also colluded in the mass silencing coordinated by Zuckerberg and Dorsey.
Tomorrow, May 5th, Facebook's Oversight Board will announce their ruling on whether or not Donald Trump can return to Facebook.
Whatever Facebook decides to do doesn't seem that important now that Trump has his own online real estate that he completely controls.