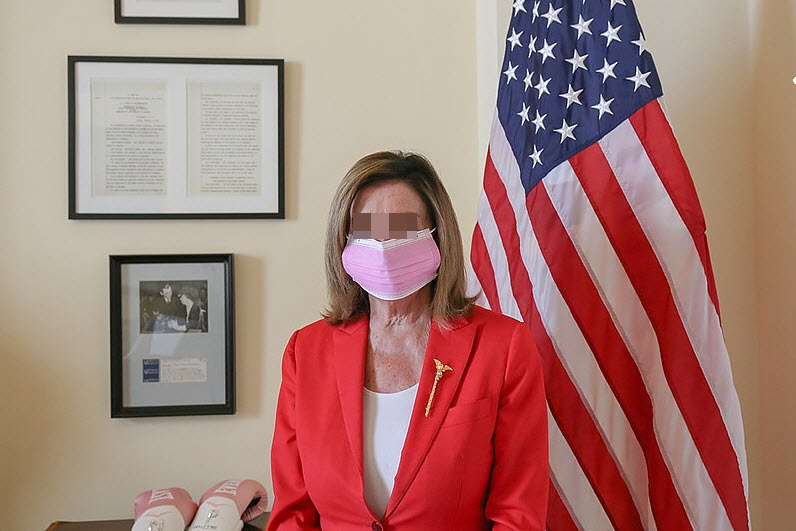 The saga of the rogue Texas Democrats continues…
You probably know by now that a posse of negligent Democrats in the Texas legislature shirked their responsibilities back on July 13th by flying out of Texas to D.C. to protest new Republican election integrity laws. These runaway Democrats spouted some woke nonsense and hopped on a private plane stocked with beer. Nobody wore a mask and the Texas Governor says these disgraceful state reps will be arrested when they return to Texas.
Meanwhile, while hobnobbing in D.C., five members of this irresponsible Democratic group tested positive for Covid. What's crazy is they met with VP Kamala Harris, who had to go see her doctor to find out if she was infected. At first the White House tried to cover up Kamala's doctor appointment, until Jen Psaki admitted Kamala was indeed seeing a doctor. We reported Kamala's Covid test results here.
This gets worse: Today, Speaker of the House Nancy got news that one of her staffers attended the Texas Democrat's super spreader event and the results are not pleasant:
"Yesterday, a fully vaccinated senior spokesperson in the speaker's press office tested positive for COVID after contact with members of the Texas state legislature last week," one of her top aides, Drew Hammill, said in a statement.

"This individual has had no contact with the speaker since exposure. The entire press office is working remotely today with the exception of individuals who have had no exposure to the individual or have had a recent negative test.  Our office will continue to follow the guidance of the Office of Attending Physician closely," he said.

The Speaker and her staffers were seen wearing masks again on Tuesday after the Capitol physician had loosened mask requirements.

Axios also reported that a White House staffer had tested positive for the virus and experienced mild symptoms after attending the same party as the Pelosi staffer. The White House aide was also fully vaccinated.

Conservative Brief
We wish these Democrats a speedy recovery, despite their hypocrisy.
"Do as we say, not as we do," says the Democratic Party.
Two sets of rules. That's how they roll. Which makes none of this saga about the rogue Democrats from Texas particularly surprising.