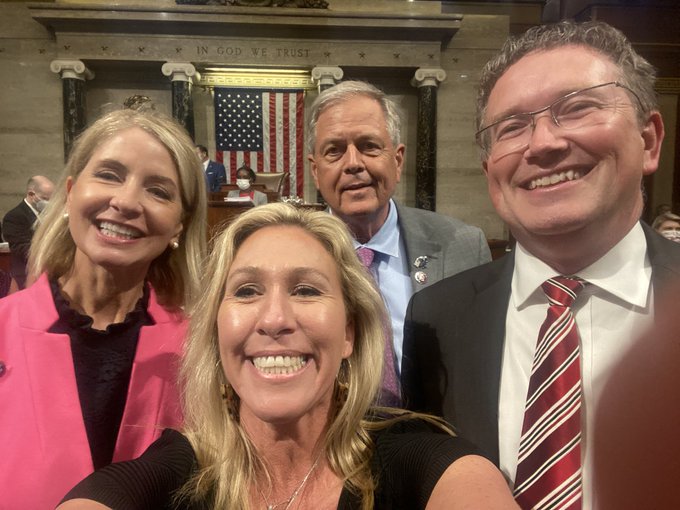 If you're fed up with all these dumb government rules over this past year, you're not alone.

And if you're reading this, you're done with anyone telling you what to wear on your face, or how far apart you need to stand to be "safe."

So are Republicans in our nation's capital.

That's why a group of brave, principled leaders defied Nancy Pelosi's stupid rule:

The requirement to wear a mask in the House chamber.
Queen Nancy has kept this rule in place, despite the CDC's relaxed guidance on having to wear a mask. And even though lawmakers and staffers in the Capitol have stopped wearing the muzzle when moving around the building.
The seven Republicans who chose to be un-muzzled are:
Reps. Lauren Boebert of Colorado, Thomas Massie of Kentucky, Marjorie Taylor Greene of Georgia, Chip Roy of Texas, Bob Good of Virginia, Louie Gohmert of Texas and Mary Miller of Illinois.
But like most principled stands, it could come with a financial cost.
They could be subject to a fine of $500 for the first offense, and $2,500 for subsequent offenses. However, the House Sergeant at Arms is giving a warning for the first offense before a fine may be levied.
Three other House reps have received a warning and will be fined $500. They are Reps. Beth Van Duyne of Texas, Brian Mast of Florida, and Mariannette Miller-Meeks of Iowa.
This mask revolt in the House has been brewing for months. Some Republicans balked at the extra "safety measures" that were imposed this past year, and bolstered after the Jan. 6 Capitol non-riot. Democrats made wearing the Face Diaper a requirement last year when many Republicans refused to wear face them.
If you live in a blue state or other place where you have to muzzle up, and you're sick of it… you're not alone.
Colorado and Nevada have dropped their mask mandates, and a growing number of folks want to get back to living life.
It's yet another example of Democrats who want to micro-manage people's lives. And bold freedom fighters, standing up for what's right.