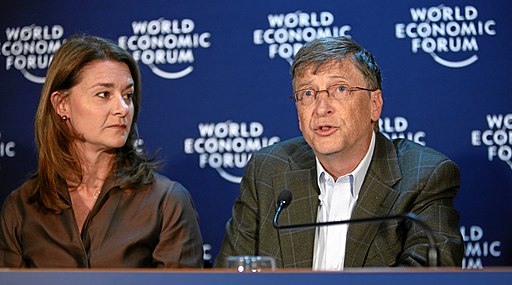 Plans to dim the sun could be in jeopardy now that the press no longer protects him.
Only Microsoft Founder Bill Gates would propose such an outrageous and dastardly scheme. Spraying the earth's atmosphere with chalk dust in order to lower the earth's temperature sounds understandably dangerous and borderline insane.
Frankly, the public is fed up with Gates' egomaniacal plans of world domination.
His vaccine pushes and calls for economic lockdowns while Skyping from his cushy castle over the past year has been a PR disaster for Gates.
The "powers that be" appear to be noticing Bill's rapidly falling polling numbers, which could explain this:
Democrat Media Protection for Bill Gates Crumbles
Recently, mainstream media outlets have been running reports covering Bill Gates' ties to sex-trafficker Jeffrey Epstein. Headlines like these are splashed all over the internet:
Bill Gates' divorce with Melinda Gates: What is the Jeffrey Epstein link?
Melinda Gates was upset and uncomfortable after she and Bill Gates met with Jeffrey Epstein, The Daily Beast reports
Melinda Gates started divorce talks in 2019, after Bill linked to Jeffrey Epstein: WSJ
Bill Gates Met With Jeffrey Epstein Many Times, Despite His Past
Little coverage was given to this story after Epstein's death. Today, various liberal media outlets are suddenly converging on this topic. Bill's friendship with Gates is now suspiciously a "hot story."
Gates has been a controversial figure years before taking a lead role in the 2020 coronavirus narrative.
Bill's love for eugenics and population control keeps thwarting his public relations efforts to portray himself as a caring philanthropist.
When you make eyebrow raising statements like this, people begin to question your motives:
The Columbia Journalism Review published a study last fall that showed how the billionaire was bankrolling news to paint himself and the Gates Foundation in a positive light.
As philanthropists increasingly fill in the funding gaps at news organizations—a role that is almost certain to expand in the media downturn following the coronavirus pandemic—an underexamined worry is how this will affect the ways newsrooms report on their benefactors. Nowhere does this concern loom larger than with the Gates Foundation, a leading donor to newsrooms and a frequent subject of favorable news coverage.

I recently examined nearly twenty thousand charitable grants the Gates Foundation had made through the end of June and found more than $250 million going toward journalism. Recipients included news operations like the BBC, NBC, Al Jazeera, ProPublica, National Journal, The Guardian, Univision, Medium, the Financial Times, The Atlantic, the Texas Tribune, Gannett, Washington Monthly, Le Monde, and the Center for Investigative Reporting; charitable organizations affiliated with news outlets, like BBC Media Action and the New York Times' Neediest Cases Fund; media companies such as Participant, whose documentary Waiting for "Superman" supports Gates's agenda on charter schools; journalistic organizations such as the Pulitzer Center on Crisis Reporting, the National Press Foundation, and the International Center for Journalists; and a variety of other groups creating news content or working on journalism, such as the Leo Burnett Company, an ad agency that Gates commissioned to create a "news site" to promote the success of aid groups. In some cases, recipients say they distributed part of the funding as subgrants to other journalistic organizations—which makes it difficult to see the full picture of Gates's funding into the fourth estate.

Gates's generosity appears to have helped foster an increasingly friendly media environment for the world's most visible charity. Twenty years ago, journalists scrutinized Bill Gates's initial foray into philanthropy as a vehicle to enrich his software company, or a PR exercise to salvage his battered reputation following Microsoft's bruising antitrust battle with the Department of Justice. Today, the foundation is most often the subject of soft profiles and glowing editorials describing its good works.

During the pandemic, news outlets have widely looked to Bill Gates as a public health expert on covid—even though Gates has no medical training and is not a public official. PolitiFact and USA Today (run by the Poynter Institute and Gannett, respectively—both of which have received funds from the Gates Foundation) have even used their fact-checking platforms to defend Gates from "false conspiracy theories" and "misinformation," like the idea that the foundation has financial investments in companies developing covid vaccines and therapies. In fact, the foundation's website and most recent tax forms clearly show investments in such companies, including Gilead and CureVac.

Columbia Journalism Review
Now, for some mysterious reason, these same media outlets are once again scrutinizing Bill Gates like they did 20 years ago.
There has to be reason why mainstream outlets are focusing on Bill's ties to Jeffrey Epstein. Why now? Epstein didn't kill himself almost two years ago.
We do know the MSM picks and chooses which public figures to attack and which to ignore. If the liberal press truly cared about every juicy story, they would be covering Hunter Biden's multiple scandals.
Lib Dem media is not covering Hunter Biden for obvious reasons.
Besides, pursuing truth in all its forms is not what the MSM does.
It's all about their agenda.
Right, Bill?