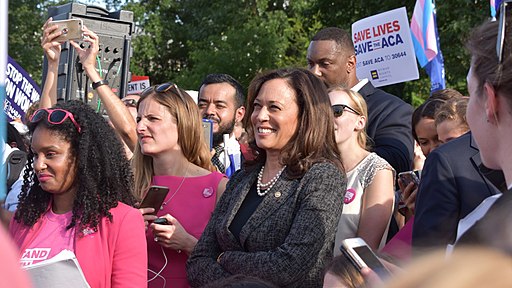 Speculation continues to swirl over Joe Biden's ability to handle the rigorous job of POTUS.
By now we know there is plenty of evidence piling up on video documenting Joe's cognitive decline.
However, beyond the mental gaffes there are other troubling signs that Biden is not up for the job – like the number of phone calls Vice President Kamala Harris is taking with foreign leaders.
It has emerged that Vice President Kamala Harris has yet again taken on duties that the President should be fulfilling, after speaking to another foreign leader this week… Reports detail how Harris spoke with the prime minister of Norway, Erna Solberg, while Biden wandered aimlessly around a hardware store barely registering where he was….The Vice President thanked the Prime Minister for Norway's close security partnership with the United States and generous contributions to development and health security efforts around the world, a White House statement notes.

Summit News
After the call, Harris tweeted:
Harris also received a lot of positive press for her phone calls with Israeli Prime Minister Benjamin Netanyahu, Canadian Prime Minister Justin Trudeau, and French President Emmanuel Macron.
Is Joe Biden a Transition Plan?
Interestingly, Biden did call himself a "transition" candidate back on May 1st, 2020. (Fittingly, May 1st is known as "May Day", which socialists celebrate as a holiday commemorating "workers rights.") Biden described himself on MSNBC as a transitional figure who is paving the way for up-and-coming politicians like Mayor Pete Buttigieg.
Biden said this:
I view myself as a transition candidate making way for the Mayor Petes of the world to come into my administration…There's an incredible group of talented, newer, younger people.

Breitbart News
The 78 year old Biden chose the 56 year old Harris to be his VP. The one position that holds the single most important role, the top honor, when it comes to "transitioning."
The Biden administration now appears to be quietly passing the baton to Harris.
One sign is the constant positioning of Harris looking over the shoulder of Biden seemingly everywhere.
Tricia Flanagan's tweet clearly illustrates this:
There is no precedent of a VP conducting many phone calls with foreign leaders, particularly so early in an administration. A New York Post article reports the VP Mike Pence only spoke with 6 foreign leaders during his four year term.
Delegating assignments to Harris and featuring her at presidential appearances and speeches is one way to facilitate a smooth transition.
Biden's Big Announcement
And now the transition appears to be ramping up: Biden is scheduling a "road show" featuring VP Kamala Harris:
While VP Harris is being highlighted, her and Joe and Jill Biden will be spending their American tour trying to explain how a COVID relief bill that was 91% pork is good for the American people.
Transition? Or more of the same?
Let us know your thoughts in the comments.