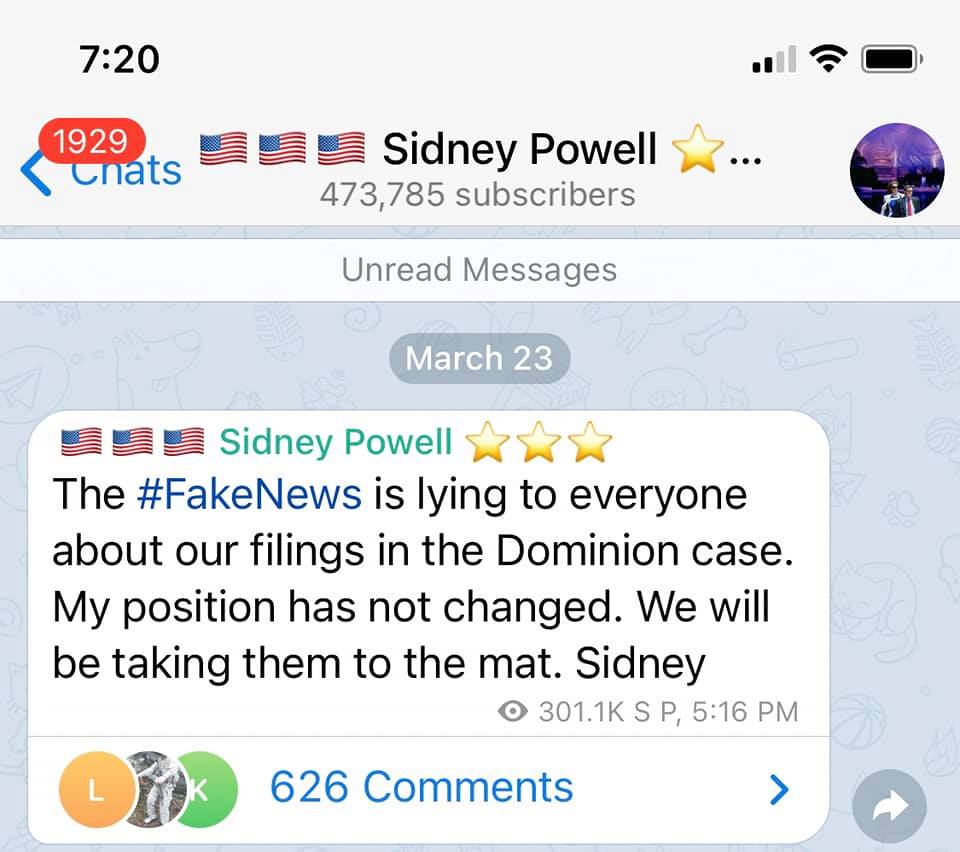 Earlier this week, the fake news media smeared attorney Sidney Powell by claiming she said something she didn't actually say. For example, a sensational CNN headline that ran on MSN claimed:
Of course, neither Powell nor her legal team made this claim. More on that in just a minute.
Reporting by conservative sites wasn't much better. For example, The Blaze ran this headline:
But if you read the entire statement from Powell's lawyers, you'll see that the fake news media cherry-picked one phrase out of context to distort what her team actually said. In the quote below, you will see the statement in its proper context.
Attorney Sidney Powell, who filed third-party lawsuits to aid former President Donald Trump in his post-election legal fight, is seeking to dismiss a $1.3 billion lawsuit that Dominion Voting Systems filed against her.

Powell said via her attorneys that the lawsuit should be dismissed as it was filed in the wrong jurisdiction, while adding that her claims about Dominion were protected under the First Amendment of the Constitution. Her team also requested that the lawsuit be moved to Texas from the District of Columbia if it isn't thrown out.

"Reasonable people would not accept such statements as fact but view them only as claims that await testing by the courts through the adversary process," her lawyers said in a motion (pdf) filed on March 22. "Sidney Powell disclosed the facts upon which her conclusions were based."

The Epoch Times
Powell has now responded and spoken out against the smear campaign. She wrote directly to the half million people who follow her on Telegram:
The good news is Powell is still ready to fight Dominion in court. Patrick Byrne wrote his own response to the fake news attacks on Powell. He said:
FREE SPEECH

– This [Dominion] defamation lawsuit is yet another attempt to silence critics and citizens who want to investigate voter fraud. The statements Dominion claims are defamatory are actually protected speech under the First Amendment because they deal with matters of public concern, i.e., election integrity. The Fake News media and their allies are spinning meritless claims because their arguments have neither the facts nor the law needed to hold up in a courtroom.

– The statements complained of are also protected because Dominion is a public figure and must prove that Ms. Powell acted with malice. This is impossible, as Ms. Powell's lawyer has explained, because Ms. Powell's statements were based on sworn affidavits, declarations, expert reports and documentary evidence. She presented this evidence for all to see in four court filings and on her website.

FAKE NEWS

– Contrary to what the Fake News is pushing, Sidney did NOT claim in court that 'no reasonable person would believe her claims'. The press is using twisted legalese and manipulating the legal standard to confuse the issue, as they have done before in other high-profile cases. Ms. Powell's statements were legal opinions that she stands behind, as they were based on sworn affidavits, declarations, expert reports and documentary evidence.

– Dominion claims that the evidence Ms. Powell relied upon to assert her claims concerning the lack of election integrity is incredible and not believable. Ms. Powell responded by pointing out that her assertions were her legal opinions based on the evidence she presented to four different courts. Accordingly, her statements are not subject to challenge under defamation law.

Telegram, March 23, 2021
The biggest takeaway here is that this still needs to play out in a court of law, and the law seems to be on Powell's side. But Dominion is trying to win in the court of public opinion rather than a court of law. This is an important distinction.
Another big takeaway is that you can't trust the fake news media to report the truth. Better to go straight to the source and make up your own mind.
What do you think about the fake news smear campaign? And do you think Sidney Powell still has a chance of winning in court? Leave a comment below with your thoughts.