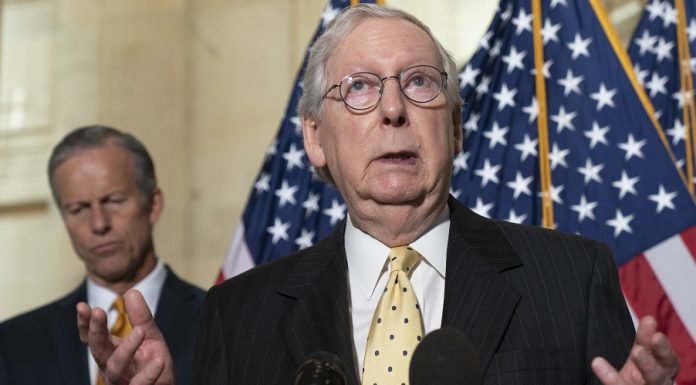 Until the last few weeks, most Democrats have been in favor of the vaccine, and most Republicans opposed. That political tide seems to have turned, as a GOP leader came out in favor of The Jab.
Tuesday, Senator Mitch McConnell urged unvaccinated Americans to take the COVID-19 shot. He warned of a repeat of last year's rising caseloads and shutdowns if people don't take it.
He said this at his weekly Capitol press conference:
"If there is anybody out there willing to listen: Get vaccinated.
"These shots need to get in everybody's arms as rapidly as possible or we're going to be back in a situation in the fall that we don't yearn for — that we went through last year. This is not complicated."
McConnell urged Americans to ignore the "demonstrably bad advice" from pundits and others against the vaccines. Because "the science" on Covid-19 has changed so often, it's difficult to discern good advice from bad.
And when you look at the data from VAERS (Vaccine Adverse Events Reporting System), it's not "bad advice" to be skeptical.
On July 18, VAERS reported more deaths from the vaccines than from the disease itself for the second week in a row.
In addition, a lawsuit was filed by a CDC whistleblower, who claimed Covid vaccine-related deaths were under-reported. The informant said that the CDC estimated these deaths at close to 45,000. Not the 11,140 number the agency recently released.
We agree it's not complicated, but don't agree that everyone should take the Covid shot. That's because the Senator's latest statement brings up more questions:
Why do political leaders, media and Big Pharma all want people to take the vaccine?
Why is Covid-19 still a hot topic in America and around the world, when deaths and hospitalizations are very low?
And what agenda(s) are behind this push for everyone to get The Jab?
To jab or not to jab – the choice is yours. But the more we learn about the Covid-19 vaccines, the less likely we are to take them.
As the Grail Knight said in the movie Indiana Jones and the Last Crusade: "Choose. But choose wisely."