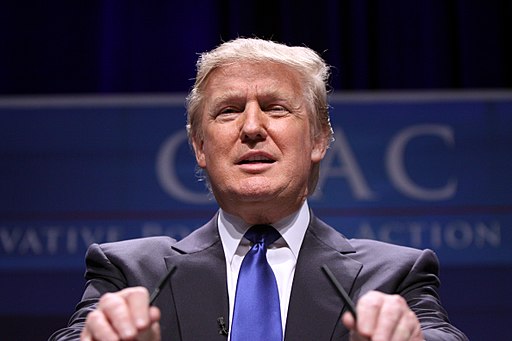 Over the weekend, President Trump cut loose, speaking publicly more than he has in months.
Naturally, the 45th President and leader of the MAGA movement had plenty to say about Joe Biden's extreme Left agenda so far. The border crisis seems to be top-of-mind for Trump and the nation right now – for good reason. The border crisis has quickly turned into a national disgrace and a security threat.
On Sunday, Biden was shuffling around, saying he would "eventually" visit the southern border, you can rest easy because Joe assures us that he knows "what's going on in those facilities."
That'll help you sleep better, I'm sure.
At the same time on Sunday Biden was telling us not to worry about the southern border, Trump said this:
We proudly handed the Biden Administration the most secure border in history. All they had to do was keep this smooth-running system on autopilot. Instead, in the span of just a few weeks, the Biden Administration has turned a national triumph into a national disaster. They are in way over their heads and taking on water fast.

Daily Wire
Trump then set his sights on Department of Homeland Security Secretary Alejandro Mayorkas and his leadershop atop DHS:
The pathetic, clueless performance of Secretary Mayorkas on the Sunday Shows today was a national disgrace. His self-satisfied presentation – in the middle of the massive crisis he helped engineer – is yet more proof he is incapable of leading DHS. Even someone of Mayorkas' limited abilities should understand that if you provide Catch-and-Release to the world's illegal aliens, then the whole world will come.

Furthermore, the Mayorkas Gag Order on our Nation's heroic border agents and ICE officers should be the subject of an immediate congressional investigation. But it's clear they are engaged in a huge cover-up to hide just how bad things truly are. The only way to end the Biden Border Crisis is for them to admit their total failure and adopt the profoundly effective, proven Trump policies.

Daily Wire
As journalists are now crying obstruction by the Biden Administration to informing the American people on what's really going on at the border – Trump said the border wall that he started must be finished.
They must immediately complete the wall, which can be done in a matter of weeks – they should never have stopped it. They are causing death and human tragedy. In addition to the obvious, drugs are pouring into our country at record levels from the Southern Border, not to mention human and sex trafficking. This Administration's reckless policies are enabling and encouraging crimes against humanity. Our Country is being destroyed!

Daily Wire
The American people are having a tough time getting truthful, accurate information on what is going on at the nation's southern border since the Biden Administration put a gag order on the Border Patrol that limits and controls what the agency can say to new reporters.
Trump to the GOP: Don't You Dare Do This
Another topic that President Trump wanted to talk about over the weekend involves the Senate filibuster.
Trump is warning Republicans not to consider abolishing the Senate filibuster, as it would bring devastating results to the Republican Party.
The filibuster came up during Trump's interview on "The Truth with Lisa Boothe" podcast.
Trump did not mince words while taking a hard look at Senate Minority Leader Mitch McConnell and the repercussions of the filibuster rule being eliminated.
Trump said:
Look, he's hanging by a thread right now with respect to the filibuster (referring to McConnell). And if they get the filler, he's hanging on [Democrat Sen.] Joe Manchin, who always goes with the Democrats. Joe talks, but he ends up going with Democrats. Now there's another great senator from the state of Arizona. He's hanging by a thread and if they get rid of the filibuster, if they knock it out, it will be catastrophic for the Republican Party.

The Hill
Without the filibuster, the radical Left would be handed a "scorched-earth Senate, according to McConnell. He's also trying to warn the GOP and moderate Democrats (do they still exists?) what a nightmare it would be for the Left to have a Senate that could easily pass whatever legislation it wants.
The filibuster has been used by both parties for decades to block legislation from both the right and the left. The Senate requires 60 votes to end a filibuster and move to a vote. Right now, the Senate has 50 Republicans and 50 Democrats. Vice President Kamala Harris is the tie breaking vote, which can always be counted on to vote with Democrats.
To pass a block of the filibuster will require some GOP Senators to vote for it along with Democrats.
Trump wasn't done talking about McConnell – the 45th President calls McConnell weak and says the GOP must find new leadership that will support his policies.
Trump went on to tell Boothe and her audience:
But if you look at what happened in the election, Mitch McConnell should've fought. You know, he did nothing. He should've fought. They should've fought. That could never have happened to a Democrat.

What happened to us with the presidential election could never have happened to the Democrats. You would have had a revolution if the tables were turned, you would have literally had a revolution. And guys like Mitch McConnell, they don't fight. And now he's hanging by a thread. He's hanging by a thread.

The Hill
Trump supporters will be pleased to see Donald Trump speak out more and more as we move forward to the 2022 election. Many were excited to see hear him on FOX News last weekend. These interviews will likely continue and increase over time.
ICYMI: Here is a blistering interview Trump did on The Faulkner Focus yesterday: