Joe Biden was in Detroit on Monday to give a speech.
He was shuffling around the airport tarmac with his wife, heading for a limousine, when he was confronted by Michigan Representative Rashida Tlaib.
The tense exchange lasted 8 minutes.
Tlaib is a member of "The Squad", which is a group of six radical progressives in Congress. They have formed a coalition of sorts, and their views are borderline Marxist.
Here are the current Squad members according to Wikipedia: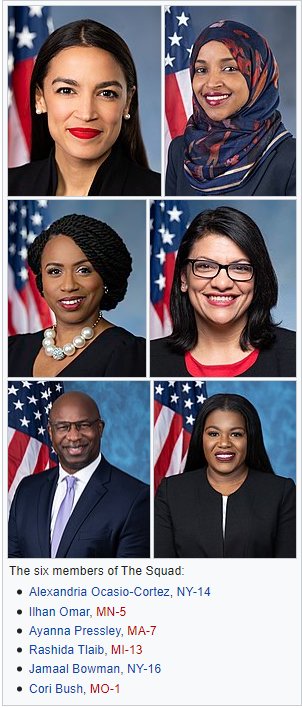 Tlaib will not reveal what she discussed with Biden – but most likely the topic involved the Hamas/Israel conflict.
Tlaib, and her comrade AOC, are some of Biden's fiercest critics on Biden's handling of the crisis.
Here's what Tlaib tweeted at Secretary of State Anthony Blinken on the middle east crisis:
Tlaib, the only Palestinian-American in Congress, has called on the U.S. to recall funding for Israel, alleging the weapons provided are used to "kill children and families."

"Enough, President Biden," Tlaib said in a Monday interview with MSNBC. "You will not do this on our watch. You have to speak out against this violence in a very aggressive way that holds Netanyahu and his leadership accountable."

Fox News
Later that evening, during a speech in Dearborn, Biden showered Tlaib with compliments.
"I want to say to you that I admire your intellect, I admire your passion, and I admire your concern for so many other people. And it's from my heart," Biden said later of Tlaib during his speech at the Dearborn Ford factory. "I pray that your Grandma and family are well, I promise to do everything you see that they are in the West Bank."

"You're a fighter," he added, though he mistakenly referred to her as Rasheed. "And God, thank you for being a fighter."

Fox News
The radical left definitely has Biden by the…neck.
The Democratic Party is growing further to the Left by the hour, it seems. And Biden is being used to carry out their radical agenda.
If you need more evidence that Tlaib is a far-left radical, consider what she called Israeli Prime Minister Netanyahu: Apartheid-in-Chief.
That's the mindset currently running the country.