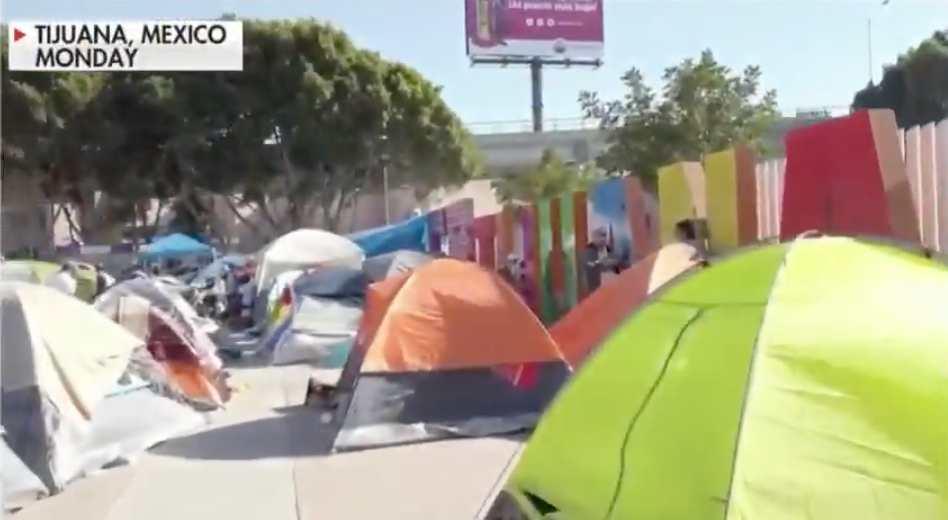 The Biden Administration has tried to downplay the migrant crisis developing along the U.S. southern border, but it's clear the tidal wave of migrants is quickly turning into a potentially dangerous situation.
The Department of Homeland Security (DHS) says the number of migrants flooding into the U.S. is "overwhelming." The numbers are already higher than previous months and years.
Customs and Border Protection (CBP) is expected to release its February numbers, including apprehensions of migrants at the border, on Wednesday. Two sources familiar with the numbers told Fox News that apprehensions are expected to be around 100,000, up from 78,000 in January.

The numbers are the latest sign that the surge in migrants risks turning into a tidal wave by the time peak migration season hits later this year. In the 2019 border crisis, the height was in May when agents encountered 144,000 migrants. In February that year, apprehensions were at 76,000 and 57,000 in January.

"It's going to be insane come spring," one CBP source told Fox News.

FoxNews.com
Among the migrants are thousands of unaccompanied minors, who are detained at the same facilities both Obama and Trump used. Of course, the media relentlessly accused Trump of putting "kids in cages" even though Obama had used the same facilities.
This point is not lost on Biden; he and his team are trying to rebrand the "cages" as "reception facilities."
Biden has granted child migrant centers permission to increase from 50% capacity to full capacity. The number of migrant children in custody at the border has already tripled in the last 2 weeks, bringing the total to 3,250 kids in cages… I mean, reception facilities. 😉
Harlingen, Texas Mayor Chris Boswell says the situation could become dangerous if resources are not made available to handle the influx of migrants.
CHRIS BOSWELL: It certainly can turn into a humanitarian crisis. We've seen this before a few years ago. When the unaccompanied minors, in particular, come to our communities, they don't have any place to go … we have shelters that have been operating in our communities, including Harlingen for a number of years. These traditional shelters operate well and safely for unaccompanied minors. When there is such an influx it really can be a dangerous situation …

These are decisions made by the federal government and should be handled by the federal government, but they turn into problems for local governments because about three weeks ago the border patrol told us in McAllen, Brownsville, and Harlingen that they would be releasing primarily families into our communities …This is not their final destination.

They're being released into Brownsville, McAllen, and Harlingen because we have airports and bus stations and we also have charity facilities. And so when those charity facilities can't accommodate them, then we have to provide additional accommodations for them. Our city council has opened up one of our facilities, the community center, in case our local charity 'Loaves and Fishes' needs that additional space. So that becomes a burden and an expense on the local governments. Our local governments really need to have help from the federal government to respond to the release of these immigrants into our communities.

FoxNews.com
Boswell has a point. If the federal government is responsible for creating the problem, then they should provide resources to handle the problem instead of forcing it onto small underfunded border towns.
And make no mistake: The Biden administration is responsible for this border crisis. They not only stopped construction of Trump's border wall, they rolled back Trump's policies and are now literally inviting immigrants into the U.S.
Biden is allowing some migrants seeking asylum, who have waited in Mexico for months under the Trump administration's  "Remain in Mexico" policy, to enter and remain in the United States pending adjudication of their asylum applications. The catch and release policy is back as the aliens melt into communities across the country, where they can compete for jobs with unemployed U.S. citizens and increase the risk of further coronavirus spread.

FrontPageMag.com
Thanks to Biden's open invitation, border agents are now seeing upwards of 20,000 illegal immigrants per week. To make matters worse, none of these people are being tested for COVID-19.
Has Biden lost his mind? (Wait, don't answer that.)
Sadly, Trump's "America First" policies are quickly being killed and replaced by Biden's "America Last" policies, and there's no end in sight.
I'll end this article with the words of Trump himself from his February 16, 2021 statement:
Prior to the pandemic, we produced the greatest economy and jobs numbers in the history of our Country, and likewise, our economic recovery after Covid was the best in the world. We cut taxes and regulations, rebuilt our military, took care of our Vets, became energy independent, built the wall and stopped the massive inflow of illegals into our Country, and so much more. And now, illegals are pouring in, pipelines are being stopped, taxes will be going up, and we will no longer be energy independent.

DonaldJTrump.com