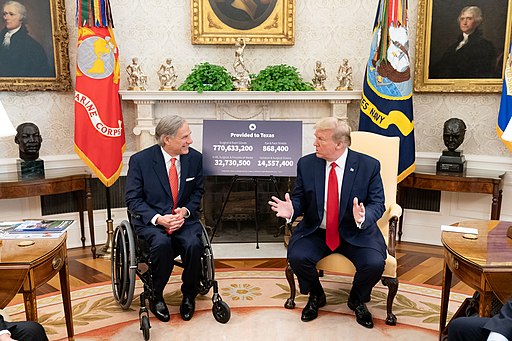 Earlier, we told you about MLB's disastrous decision to oppose Georgia's election cleanup laws. The Peach State legislature passed new laws to restore integrity in the voting system.
MLB followed the woke narrative that these laws are racist and pulled their all-star game out of Georgia.
And now businesses like MLB and Coca-Cola amongst several others are losing customers and sales in droves thanks to President Trump's call for boycotts. Meanwhile, Republican leaders are now pushing back on this out-of-control political correctness which is now reaching epically stupid levels.
Texas Governor Greg Abbott sent a letter to the COO of his state's MLB team The Texas Rangers, blasting the entire major leagues with this fantastic letter.
Abbott was scheduled to throw out the first pitch at the Rangers home opener. But he declined the invitation. He won't be attending the game now.
He writes:
Thank you for the invitation to throw out the first pitch at the Texas Rangers' home opening game. I was looking forward to it – until MLB adopted what has turned out to be a false narrative about election law reforms in Georgia, and based on that false narrative, moved the MLB All-Star game from Atlanta. It is shameful that America's pastime is not only being influenced by partisan political politics, but also perpetuating false political narratives. The State of Texas was proud to help MLB host last season's National League playoff games and the World Series in Arlington. However, I will not participate in an event held by MLB, and the State will not seek to host the All-Star Game or any other MLB special events.

Greg Abbott on Twitter
Here is Abbott's tweet that includes the letter:
Let us know if you are joining in on the MLB boycott.