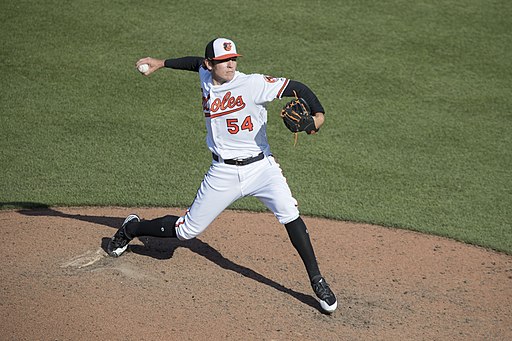 Americans love springtime for more than just the flowers.
Kids around the country kick off little league baseball games, while the big boys at the top – the major leagues – start a new season at ballparks from Boston to Seattle.
Americans still love to watch professional baseball.
However, MLB is off to a terrible start this year.
This was no April Fool's joke: last week MLB Commissioner Robert D. Manfred Jr. announced a stunning display of "wokeness."
Major League Baseball will be moving their all-star game out of Atlanta, Georgia as a protest against the new voter identification laws the peach state just passed.
The new election law passed by Georgia state leaders requires a photo ID to vote absentee in the state.
This sounds like a great move for Georgia. In fact, 72% of Americans agree with this law. Many more states need to require photo ID as well to vote. Right?
That hasn't stopped MLB from making most of their fans angry.
Commissioner Manfred issued this statement:
Soon after this announcement, Sleepy Joe Biden was on ESPN, making crazy statements about these new laws in Georgia that help shore up election integrity – comparing the laws to "Jim Crow on steroids."
Listen to this:
Now, if you think the headline to this report is a little extreme – pay attention. This story only gets worse.
MLB Sweetens Deal with Communist Chinese
The day before MLB announced they were moving the all-star game out of Georgia, the league had expanded it's contract with a Chinese firm called Tencent, which is known to have close ties to the CCP (Chinese Communist Party).
This was announced on April Fool's Day. Then on April 2nd, the all-star game gets yanked out of Atlanta.
Did you ever think a day would come to America when its favorite pastime would support communism and voter fraud? (Are those things one and the same?)
Chinese state media reported on April 1 that MLB will continue to be aired on the streaming platform operated by the Chinese tech giant Tencent, which has significant ties to the Chinese Communist Party (CCP). Tencent is of the Chinese companies that had temporarily dropped NBA games as a form of censorship after former Houston Rockets general manager Daryl Morey spoke out in support of the pro-democracy protests in Hong Kong.

The Epoch Times
Republican Senator Mark Rubio (FL) pointed out the coincidental timing of the MLB/China deal and Georgia boycott, accusing our national pastime of caving in to pressure from the woke mob.
Watching the NBA bow down to the Chinese was bad enough. Now, it appears MLB is down on its knees as well.
Baseball fans are understandably outraged:
Donald Trump Calls for a Boycott
Former President Trump began calling on a boycott of MLB for their stance against Georgia voter laws last Friday. Over the past few days, his boycott has expanded to included other "woke" companies like JP Morgan, ViacomCBS, Cisco, UPS, and Merck.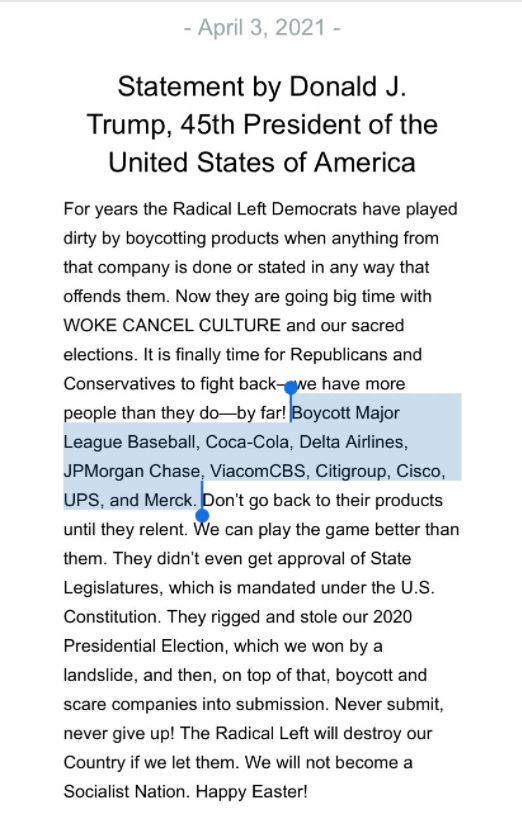 Boycotts have proven to be an effective strategy.
If enough patriots and Americans who want election integrity will stay disciplined in their boycotts over a period of time is a way to get these companies to back track and drop their political pet projects.
Are you going to support Major League Baseball this season? Share your thoughts in the comments.