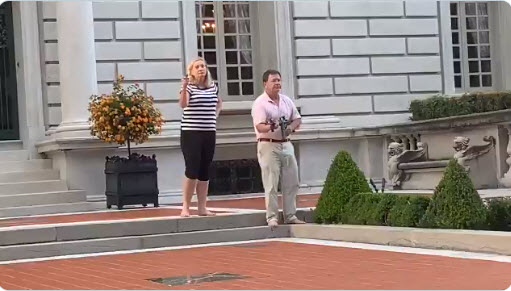 They had the nerve to defend their home using the 2nd Amendment right to bear arms.
The McCloskey's became instantly famous on that fateful day in 2020 when a BLM mob of 300 people broke into the couple's gated community in downtown St. Louis and threatened to ransack their home and kill them.
Today, Mark and Patricia McCloskey are conservative icons.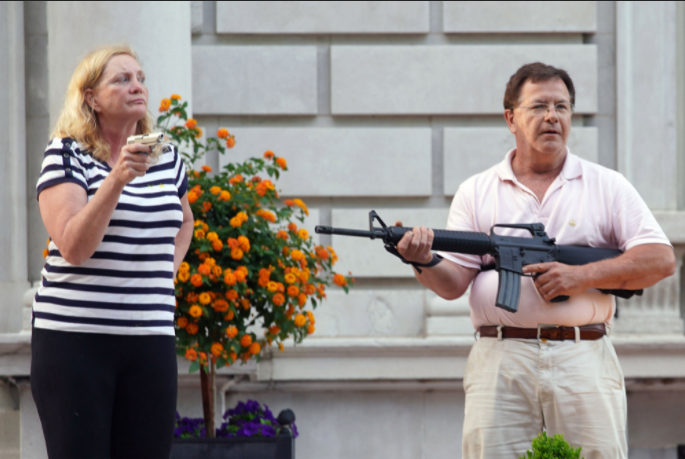 Last week, the McCloskey's plead guilty to misdemeanor charges and had to forfeit their guns that they held in the viral video outside their mansion.
Patricia was forced to turn in her pistol, and Mark had to forfeit his AR-15.
But this week – Mark got the last laugh!
On Saturday, Mark tweeted himself standing in a gun shop holding his brand new AR-15. You can see Patricia standing next to Mark in the second photo:
How fantastic is this? Mark turns right around and buys new guns after paying their ridiculous fine. (No word if Patricia bought a new pistol.)
The couple were prosecuted by radical Democrats in St. Louis. But thanks to the constitution, the Soros funded prosecutors could only charge the McCloskey's with misdemeanors.
They never did anything wrong. Governor Mike Parson of Missouri even said he would pardon the couple if they were convicted.
In case you might not be familiar with what happened – a BLM mob, some armed, stormed the McCloskey's neighborhood and the group stopped in front of Mark and Patricia's mansion.
Put yourself in their shoes – do you call the police and hope for the best?
Listen to how Mark McCloskey described the scene to USA Today:
Mark McCloskey knows how important the 2nd Amendment is, and he wants you to keep your right to bear arms. Which is why he is running for Congress.
Here is how Patricia McCloskey described that infamous day:
To this day, leftwing Democrats portray the McCloskey's as the bad guys who threatened violence on "peaceful protestors."
For the record:
The McCloskey's told reporters that once they noticed two members of the mob were armed, they armed themselves and called 911. As mentioned earlier, the police never came.

The Western Journal
Isn't it chilling to think about what might have happened to the McCloskey's if they had not been armed?
Last Saturday, Mark and Patricia showed everyone that the 2nd Amendment is alive and well.