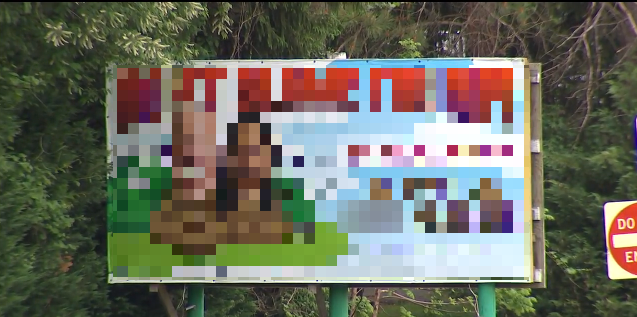 NOTE: A clear image of the billboard is revealed below…
The "Don't Blame Me, I Voted for Trump" memes and bumper stickers are popping up more frequently these days. Conservatives enjoy posting these types of messages while Stumbling Joe makes a mess of the country.
Now that the border crisis is in full melt-down, the country is experiencing a 1970s style gas crisis, and inflation is rising at al alarming rate, somebody decided to take their anti-Biden advertisements to another level.
Anti-Biden Billboard Infuriates Democrats
A pro-Trump sign in Maryland is causing a stir in the community due to its graphic language and has some calling for its removal.

The sign, which features a cartoon image of President Joe Biden and Vice President Kamala Harris superimposed on feces, says, "Don't blame Trump, you are stuck with these two s—heads."

"From all your deplorables in Calvert County," the bottom of the sign reads.

At least one local Democrat has spoken out against it, voicing concern that young children drive by the sign, which is located near the intersection of Route 4 and Bowie Shop Road in Huntingtown, Maryland.

"It's just vulgar," Jeanette Flaim, chairwoman of the Calvert County Democratic Central Committee, said. "Kids are going to school, and they're going by it every day, and parents are driving their kids. We just don't think kids should have to see that or parents should have to explain that."

Board of County Commissioners President Buddy Hance responded to questions about the sign and said the town's hands are tied due to a Supreme Court ruling in 2015 protecting free speech on billboards.

"There is nothing that we as county government can do for language that's on a legal sign," Hance said. "You know this country was built on the foundation of free speech, and sometimes we like what that free speech says, and sometimes we don't."

Washington Examiner
Here is the controversial Pro Trump billboard in Calvert County, Maryland: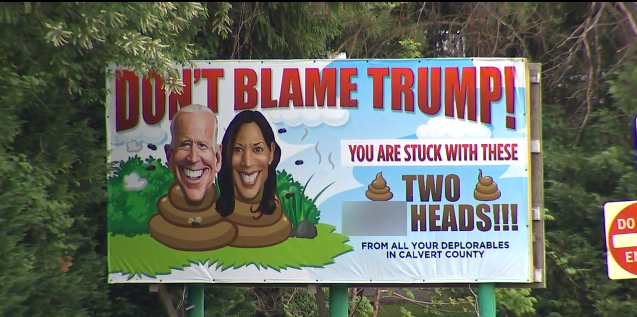 As you can see, the heads of Joe Biden and Kamala Harris each sit atop a pile of "you know what."
And that one word blurred out does use the profane term beginning with the letter "S."
Thanks to free speech laws, this billboard could stay up for a long time.
The Democrats of Clayton County are hoping they can create enough peer pressure to get the billboard taken down.
A local news station has tried to track down who is behind the billboard, but as of May 12, those behind the ad remain a mystery.