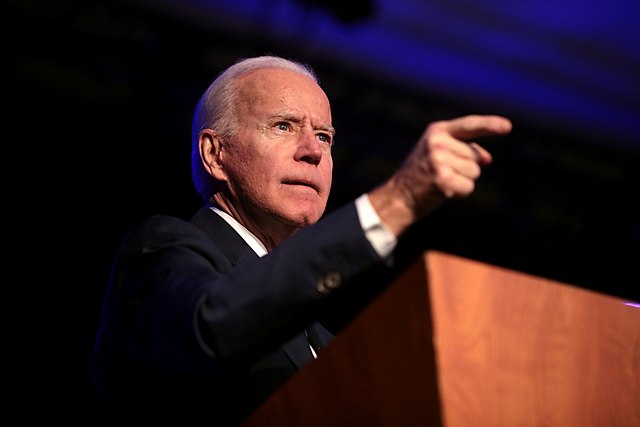 Right out of the gate, Joe Biden's presidency is in perfect alignment with the radical Left.
Using centrist rhetoric during the campaign while leaning on his past political record, Biden tricked many voters. Biden buyer's remorse is a real thing.
Calling for unity early on, those sentiments are gone. Biden hasn't talked about "coming together" in months.
Instead, Biden is behaving like a far left radical politician. Implementing the most radical left-wing presidency in U.S. history: open borders, gun restrictions, D.C. statehood, Green New Deal, court packing, and cracking down on political opponents like a banana republic.
Thug-in-Chief Puts Squeeze on Political Foes
In less than four months in office, Biden is already using legally questionable tactics to try to intimidate or silence political opponents. Let's look at three egregious examples:
1. Rudy Giuliani
A lawyer for Rudy Giuliani said federal investigators executed a search warrant at the home of the former New York City mayor and attorney to former President Donald Trump and seized electronic devices.

Giuliani's attorney Robert Costello told Fox News that seven FBI agents arrived at his Manhattan apartment at 6 a.m. on April 28 and remained there for about two hours. They seized laptops, cell phones, and other electronic devices, Costello said.

"This is totally unnecessary," Costello told Fox News, adding the raid was carried out to "make him look like he's some sort of criminal."

The New York Times was the first to report on the search, claiming that it may have at least partially stemmed from Giuliani's dealings in Ukraine. Giuliani wasn't arrested or charged with a crime, and it's not clear exactly why the former mayor's house was searched.

"What they did today was legal thuggery," Costello told the paper. "Why would you do this to anyone, let alone someone who was the associate attorney general, United States attorney, the mayor of New York City, and the personal lawyer to the 45th president of the United States."

The Epoch Times
2. Nick Fuentes
There are disturbing reports from anecdotal accounts circulating online of people being placed on the "no fly list" who were in attendance at the Jan. 6 Capitol protest, which was a perfectly legal protest.
Tucker Carlson talked about the Biden Administration placing political dissidents on the "no fly list" recently:
Nick Fuentes, a controversial "right-wing commentator," shared a video on April 27th that went viral. Apparently using his own handheld video camera at the airport, Fuentes captured direct evidence that he was placed on the "no fly list" without prior warning:
Fuentes presented a video that appears to show that he will not be allowed to fly on Southwest, specifically, with the agent telling him that she was told that he is "not allowed to fly."

In the video, Fuentes can be heard to ask an airline representative "Who did you say to talk to down there?"

"You can try talking to … we're not saying that they're going to have an answer," she says. She identifies who he should talk to, but says "I'm not sure they'll have an answer for you."

"Okay," Fuentes replies. "And there's no way I can get on this plane?"

"No," she says. "They're not letting you fly with Southwest." Fuentes asks if he could perhaps get on a flight with another carrier. "I'm not sure," she says. "I know that was a TSA number, I'm not sure if you're blocked from just a no flight list."

"Did they give you a reason?" He asks.

"No."

"It's a no fly list you said?"

"I'm not sure," she says. "They just told me that you're not allowed to fly. That's all they told me."

"Okay, thank you," he says, as he walks away.

The Post Millennial
3. The Epoch Times
This third example of Biden's attacks on political opponents is the most disturbing of them all.
A news service called The Epoch Times had their press credentials revoked. The paper's audience has grown exponentially in just a few short years. With the slogan "Truth and Tradition", the conservative and constitutional leaning paper has rubbed Democrats the wrong way with their bold reporting on stories like Hunter Biden's laptop. The paper is also known for its fearless criticism of the Chinese Communist Party.
Technically, the Democrat-led House of Representatives stripped The Epoch Times of their press credentials. However, there is no doubt that the Biden Administration is in agreement with this move.
The Epoch Times' credentials were revoked by the House of Representatives press gallery, though Philipp said that they are yet to receive anything in writing pointing to specifically why this happened.

Chinese state-run media outlets including Xinhua and People's Daily, both associated with the Chinese Communist Party and its propaganda, still have their credentials and are allowed to cover Congress.

The Post Millennial
Here is The Epoch Times reporter Josh Philipp on Tucker Carlson talking about the outrageous fact that CCP affiliated media outlets are given press credentials by Congress but not a truth telling news outlet that dares to question Biden's agenda.
So Much for Unity
Joe Biden is proving to be all talk when it comes to his "reaching across the aisle" efforts he promised before January 20th. Since moving into the White House, he has been following marching orders by the most radical elements of the Democratic Party. Some of his closest friends in Congress say they don't recognize Joe anymore. He's a different person.
Using the DOJ as a tool for political revenge is extremely unamerican and should disturb every American.