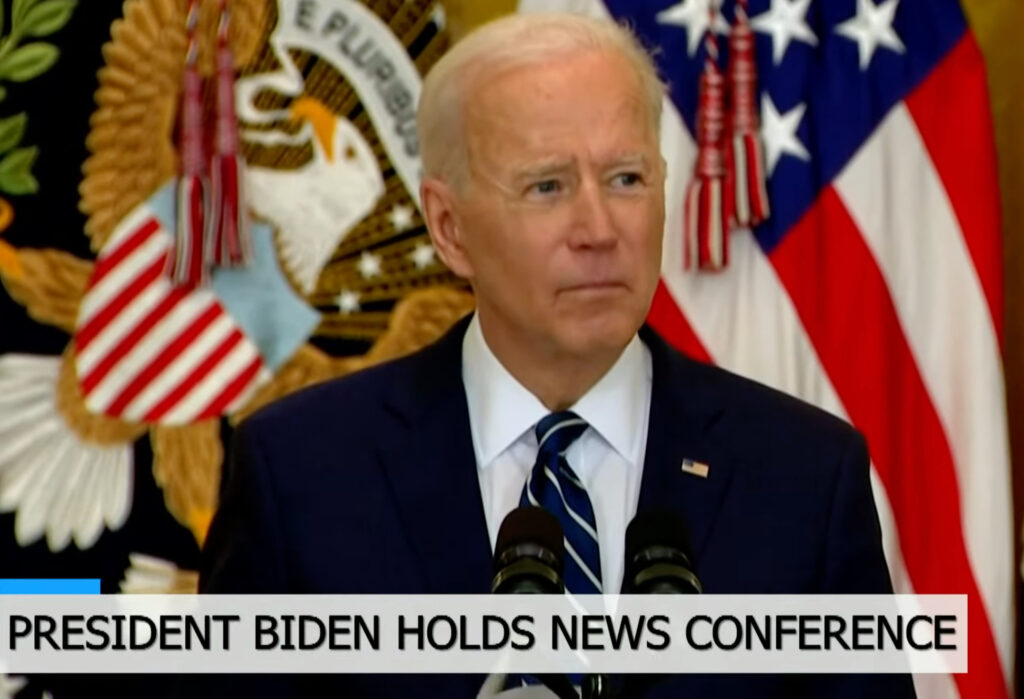 Today, more than two months after his inauguration, President Joe Biden held his first solo press conference. Within the first few minutes, it was obvious he was having trouble pronouncing some of the words on his prewritten script.
Steven Crowder was even bolder in his assessment: "I'm calling it. The Biden press conference was an unmitigated disaster." After I watched portions of the recording, it was hard to disagree.
More on this in just a minute. But first, an accurate summary of the press conference from the NY Post…
"Biden Repeatedly Lost His Train of Thought"
President Biden appeared to repeatedly lose his train of thought early on in his first press conference as commander-in-chief Thursday, asking reporters if they wanted him to go into detail in his answers, forgetting questions and relying heavily on cue cards from a binder he brought along.

The president took ten questions at the 62 minute presser, repeatedly consulting his binder before calling on the next reporter.

The three-ring binder also held the opening remarks he delivered at the start of the briefing, as well as notes on topics of major concern he was likely to be asked about.

The first awkward moment occurred while the president was answering a question on the crisis at the southern border from PBS journalist Yamiche Alcindor.

After speaking for four minutes about the migrant surge, the 46th president remarked, "And the other thing we're doing, I might add," before cutting himself off to ask, "Am I giving you too long of an answer? Because if you don't want the detail …"

"I don't know how much detail you want about immigration," he continued, going on to say, "Maybe I'll stop there."

NY Post
Just The News was more generous in their assessment:
Thursday's press conference had been long awaited by both the press and the public. The Biden campaign had pledged a "transparent, open" relationship with the press, yet the president himself had failed to appear solo before journalists over two months into his administration. 

Some administration critics have speculated that Biden — who at 78 years old has at times appeared to struggle with the public duties of the presidency — may have been deliberately avoiding engagements with the press for fear of potentially struggling in front of them. 

Biden during his Thursday presser appeared largely relaxed and prepared, though at times after fielding a question he paused for significant lengths of time as he apparently pondered his response. In other cases, he appeared to be reading directly from notes in a stack of papers. 

The president also appeared to be calling on assembled journalists from a list on his lectern. A little over a dozen reporters were present in the East Room, all of them physically distanced from each other and wearing masks as well.

Just The News
What Did Biden Actually Talk About?
Biden touted the 100 million COVID-19 shots administered within the first 100 days of his administration — an achievement that never would have been possible without Trump pushing for rapid vaccine development and deployment.
Biden also blamed Trump for the current border crisis while defending his administration and downplaying the severity of the situation.
The president partially blamed the Trump administration for allegedly dismantling immigration infrastructure and underfunding border authorities. "What we're doing now is attempting to rebuild the system that can accommodate what is happening today," Biden argued. 

Still, even as he argued that his administration is working to deal with the crush of migrants on this side of the border, Biden said authorities under his direction are deporting the vast majority of them. 

"If you take a look at the number of people are coming," he said, "the vast majority, the overwhelming majority of people coming to the border [and] crossing are being sent back."

Just The News
It is blatantly disingenuous to blame Trump for the current border crisis. Trump had fought for funds to strengthen border security and built large sections of wall during his time in office. Biden then canceled wall construction on his first day in office.
But Biden then went further by reversing Trump's "Remain in Mexico" policy and allowing thousands of migrants to flood into the U.S. to seek asylum.
So let's be clear: Trump had nothing to do with the current border crisis no matter what Biden says. This crisis is much worse than Biden claims, and it's 100% on him and his administration.
Conservatives Say Biden's Press Conference Was a Disaster
Many conservatives panned the press conference as a train wreck. Here's a sampling of responses:
If "unmitigated disaster" seems a bit strong, then take a look at this clip where Biden claims he's been in the Senate for 120 years:
Multiple people noticed the gaffe, including this guy:
Anyway, in case you missed it — and you have the time or interest to watch it — here's the full recording of Biden's first press conference:
What observations do YOU have about Biden's press conference? Good, bad, or ugly, leave a comment below with your thoughts.