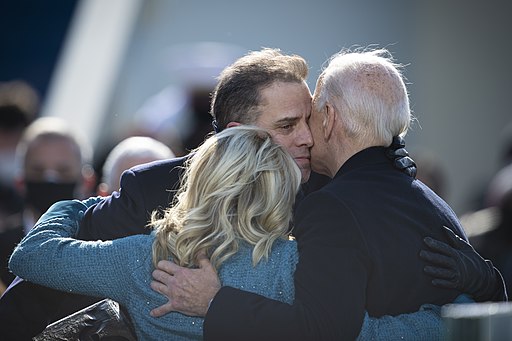 A privileged son like Hunter Biden — whose father now sits in the White House — has advantages in life.
One of those advantages is access to top dollar public relations.
Normally, no one would care to read a biography of a no-name drug addict who hasn't accomplished much.
However, when you're the son of a U.S. President — a book deal is easy to get.
So to clean up his image – Hunter released a "tell-all" memoir called Beautiful Things.
But the problem with this book is that it doesn't "tell all." Not even close.
Fortunately for truth seekers, the DailyMail.com is filling in the gaps with their own investigation — and it's shocking.
New Information from Hunter's Laptop
The Daily Mail has released a ton of new revelations about the contents found on the hard drive of Hunter Biden's laptop.
The longtime British news source also hired forensic experts at Maryman & Associates to examine the laptop, who concluded it's authentic and once belonged to Hunter.
Here is an overview of their findings:
Hunter Biden released his 'tell-all' memoir Beautiful Things on Tuesday, but left out shocking details:

* DailyMail.com can reveal those secrets after contents of his abandoned laptop – including a cache of 103,000 text messages, 154,000 emails, more than 2,000 photos – were verified by top forensics experts

* Hunter left his MacBook Pro laptop at a Wilmington, Delaware computer repair shop in April 2019 and never returned for it

* In texts from 2019, Hunter begged his father to run for president to salvage Hunter's own reputation 

* Hunter repeatedly dodged police action against him, despite constantly dealing with drug dealers and prostitutes and having multiple run-ins with the law

* The president's son was guarded by a Secret Service agent while on a 2018 drug and prostitute binge in Hollywood, despite not being entitled to protection at the time 

* Hunter appeared to be obsessed with making porn films with prostitutes, videos and photos on his laptop show

* Texts also show Joe Biden was afraid his conversations with Hunter were being hacked even as they discussed his White House bid 

Daily mail
The Daily Mail has uncovered a bunch of embarrassing photos, along with several text correspondences between Joe Biden and his son Hunter.
Here is one example:
When Joe texted him a typically doting message 'Good morning my beautiful son. I miss you and love you. Dad' on February 24 that year, Hunter raged at his father for 'having made clear to the world that the only reason for not [running for president is your] family problems im glad to be the f***ing bullseye you painted on my back.'

Hunter complained that his father's advice to not defend himself in the media over stories about his expensive divorce from his ex-wife Kathleen Biden or his affair with his brother's widow Hallie had backfired, and added sarcastically: 'Oh …good morning …from f***ing rehab.'

'Your team just made me the uncontrollable troubled tax cheat philanderer sex and drug addict that you tried so hard to fix but couldn't yt. They just totally wrote my life away,' he wrote.

'If you dont run ill never have a chance at redemption.'

Joe replied, promising his son he would run for President but adding that he was worried his texts were 'a target' for hacking.

'I'll run but I need you,' he wrote. 'H[allie] is wrong. Only focus is recovery. Nothing else… When you can and feel like it call. Positive my text etc a target. Love.'

He declared his candidacy two months later.

Daily mail
The Daily Mail transparently states they obtained a copy of Hunter's laptop hard drive from former Steve Bannon podcast co-host Jack Maxey.
Get the full details on Hunter's laptop here.