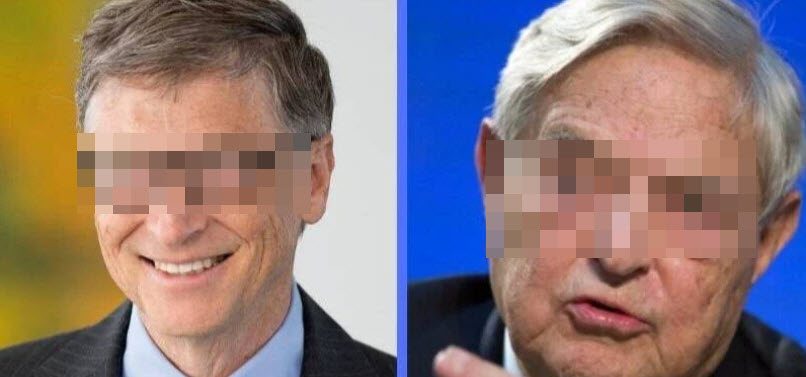 These left-wing billionaires have too much time on their hands.
The oligarchy keeps getting into our personal business from all angles.
And whatever they do, our freedoms get taken in the process.
One thing the ruling class is trying to do is suppress our free speech. Big Tech does this with their "fact checkers", which is a censorship tool designed to look helpful for society.
Apparently, the Facebook and Twitter fact checking is not enough. Now Bill Gates and George Soros are teaming up to launch a new "commission" to "fight mis- and disinformation."
The commission is called the Aspen Institute Commission on Information Disorder and will be co-chaired by corporately trained shill Katie Couric.
Couric infamously said a few months ago on Bill Maher's show that "we" should "deprogram" supporters of Donald Trump's "cult."
The commission is also chaired by leftist Rashad Robinson, who leads the Soros-funded and racially charged Color of Change group. Color of Change was recently behind an effort to defund police foundations. The last co-chair, former Cybersecurity and Infrastructure Security Agency Director Chris Krebs, had claimed that the 2020 election was "the most secure in history." Krebs' comment earned him backlash from a senior Department of Homeland Security official, according to Fox News. 

The Bill & Melinda Gates Foundation and two organizations within Soros's Open Society Network — Foundation to Promote Open Society ($2,594,780) and the Open Society Institute ($445,000) —  have pumped Aspen Institute with at least $101,854,593 and $3,039,780 respectively between 2003 and 2020, according to Foundation Directory Online data. In addition, Aspen noted that the Commission was "fully funded" by Craig Newmark Philanthropies, the grantmaking organization of liberal billionaire Craigslist founder Craig Newmark. Last year, reporting showed that Newmark had spent $170 million to "save journalism" and "beat President Trump."

Newsbusters
Other members of the commission tell you everything you need to know about its purpose and their bias. (As if you needed any more evidence.)
— Duke of Sussex Prince Harry
— Kathryn Murdoch, climate activist
— James Murdoch, Fox News heir, husband to Kathryn, eco-activist, funder of radical left group Democracy Works
— Republican Congressman Will Hurd of Texas, who is anti-Trump
Their mission statement is straight outta 1984
This "Ministry of Information" is not helpful at all to a constitutional republic that protects freedom of speech and thought.
To help protect your conservative way of life, one thing you can do is contact ABC News (818-460-7477), CBS News (212-975-3247) and NBC News (212-664-6192) and demand they report on the Aspen Institute's leadership bias.