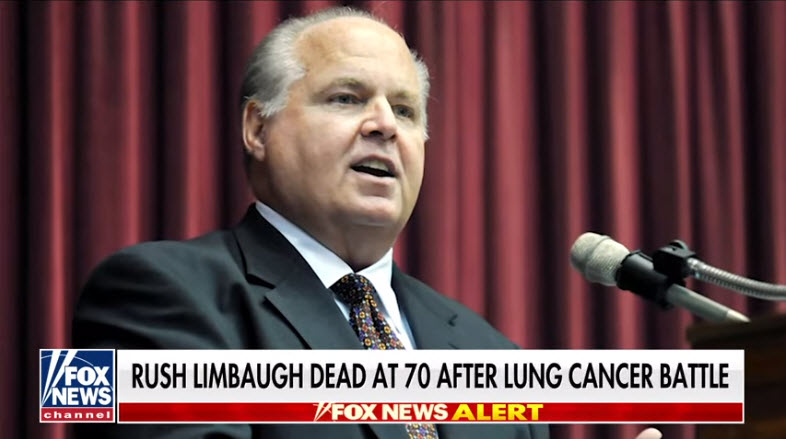 My mother was crying when she called me with the sad, sad news: radio legend Rush Limbaugh has died. 
Conservatives around the country are buzzing about the death of one of their biggest advocates. Rush was a political force to be reckoned with long before Donald Trump entered politics.
The news was not a shock to most as "The Great One" announced back in January of 2020 that he had been diagnosed with advanced Stage 4 lung cancer. Since then, Rush continued doing what he loved–talking on the radio about politics from a conservative perspective.
Soon after announcing his illness, Rush attended the State of the Union address on Feb. 4, 2020 and was shocked when Melania Trump pulled a Presidential Medal of Freedom out of her pocket and place the honor around his neck. Rush was overwhelmed with emotion, so much so that the bombastic personality was speechless. "Rush Limbaugh: Thank you for your decades of tireless devotion to our country," said President Trump with a smile.
Over the past year, Rush occasionally spoke about his health, giving listeners updates that were honest and sometimes heartbreaking.
In his final radio broadcast of 2020, Rush thanked listeners for their love and support and shared how he had outlived his prognosis: "I wasn't expected to be alive today," Rush said. "I wasn't expected to make it to October, and then November, and then December. And yet, here I am, and today, got some problems, but I'm feeling pretty good today."
As would be expected in today's polarized nation, the Right is paying their respects on social media with honor and class. While the ugly Left is celebrating  with mean and nasty tweets.
Let's first take a look at some tweets from conservative politicians and media figures:
Just heard Rush Limbaugh has died. A little piece of me is gone with him. Legend, pioneer, savior of AM radio. I would never have left tv for radio if Rush didn't rebuild radio. Amazing talent, big heart and true patriot. He is already missed. RIP G.O.A.T.

— kevin kietzman (@kkhasissues) February 17, 2021
Some will talk about his contributions to radio, but let's be like the Mayor of Realville. #RushLimbaugh singlehandedly, alone, saved AM radio. Period. Anyone that ever owned, operated or worked in AM radio the past 30 years should thank him today, politics aside.

— kevin kietzman (@kkhasissues) February 17, 2021
Rush took all the abuse for everyone else and never, ever wavered. He was the original Trump…. skin made of iron. Told it real. Truth offended a lot of people.

— kevin kietzman (@kkhasissues) February 17, 2021
Rush Limbaugh changed politics, media and the consumption of information. His impact and influence cannot be overstated.

Iconic just doesn't cut it. He's unrivaled.

His handling of his opioid addiction as a public figure was also beyond admirable, and should not be overlooked.

— Rich "The People's Pundit" Baris (@Peoples_Pundit) February 17, 2021
With the passing of radio legend Rush Limbaugh – millions of Americans remember the conservative icon, Newsmax TV's @JohnGizzi reports. https://t.co/VlT7z8drtO pic.twitter.com/xchAoPlFdP

— Newsmax (@newsmax) February 17, 2021

 
Rush Limbaugh, RIP, and remember that he was 100% always against lockdowns. Even from March 9, 2020, he was reading on air my writings against the shutdowns of the previous day. He never gave up that position from that point until his death.

— Jeffrey A Tucker (@jeffreyatucker) February 17, 2021
From his first job in high school as a radio personality in Cape Girardeau to the EIB Network, Rush Limbaugh changed the way Americans talked about issues every day.

— Senator Roy Blunt (@RoyBlunt) February 17, 2021
Rush Limbaugh was a generational media trailblazer. He gave a voice to millions of conservative Americans whom the mainstream media had not even tried to represent. His impact is impossible to overstate. May he rest in peace.

— Leader McConnell (@LeaderMcConnell) February 17, 2021
Today America lost a Giant with the passing of Rush Limbaugh, and Karen and I send our most heartfelt sympathies to Kathryn, his brother David, and the millions of Americans who loved and cherished his incomparable voice. pic.twitter.com/tGlhCiY7g6

— Mike Pence (@Mike_Pence) February 17, 2021
I think Newt Gingrich, Rush Limbaugh and Donald Trump are three of the five most important and influential conservative figures in American life over the past three decades. (along with Ailes and Murdoch) The conservatism we have is the conservatism they have forged.

— Chris Hayes (@chrislhayes) February 17, 2021
Meanwhile, evil leftists are mocking and cheering Rush's passing. They have even started a horrible trending hashtag that will not be promoted here.
Just look at some of the toxicity and hate being spewed over on Twitter:
Told my partner Rush Limbaugh died. We high-fived. I told them Prince Philip is sick and in the hospital. We high-fived again.

— Maggie Mae Fish 🐟 (@MaggieMaeFish) February 17, 2021
My partner woke me up with the news that Rush Limbaugh has died. I'm ecstatic. Best wakeup ever. #Restinpiss

— Rhea (@RheaRavenheart) February 17, 2021
So this @HuffPost obituary for Rush Limbaugh definitely goes there. https://t.co/omZ7B5RzDK

— Andrew Feinberg (@AndrewFeinberg) February 17, 2021
God has canceled Rush Limbaugh

— Erin treason mullet Ryan (@morninggloria) February 17, 2021
Remembering an awful part time job I had in an archives warehouse where one worker played Rush Limbaugh, inflicting mild torture on me. #goodriddance

— Carla Cuckoo (@snugglepile) February 17, 2021
(Leftists are showing their true nature today. Sickening.)
Today, America lost a national treasure.
Rest in Peace, El Rushbo.